Cardi B Blasts Fans During Explosive Rant And Quits Twitter
25 March 2019, 10:40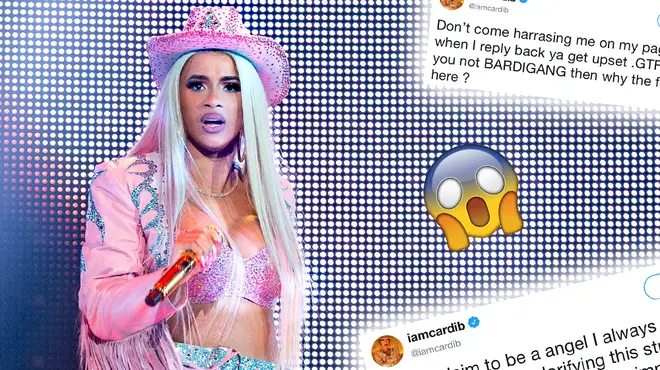 Cardi B took to social media for an expletive rant, while addressing fans comments...
On a Sunday, it's usually time to chill and relax after an exhausting week, but not for Cardi B. Infact, it was a rather eventful one as she took to social media to express how she feels. Loaded with emotions, Cardi let off on fans who criticise her for being herself.
It all started when Cardi was scrolling through her comment sections of her various social accounts. It is clear that the star saw some things that triggered her, because the following day, Cardi B was already on Instagram Live and Twitter going off on fans.
The "Money" rapper, wanted to let people know to stop messing with her as they don't know the Cardi B before fame. The 26 year-old internet sensation, revealed the shady things she did in her previous life and reminded her fans that she's "a B*tch that came from the Streets".
I never claim to be a angel I always been a street bitch Ya be glorifying this street rappers that talk and do that grimmey street shit but they can't stand a street bitch!

— iamcardib (@iamcardib) March 24, 2019
Although Cardi has evolved into a better version of herself, she finds that certain fans who judge her for everything she does, drags her back into old habits. Cardi has previously made it clear that she's focussing on her family and being a better person, but with that, she finds people are forgetting the "true" roots of Cardi.
On Sunday, (Mar 24) Cardi took to Twitter, after seeing a comment a fan made stating: "Cardi B making it of LHH, but now she big big y'all stay on her heels for literally nothing". Cardi tweeted in agreeance and replied "Lmaaaaoooooooo exactly" on Twitter.
Don't come harrasing me on my page and when I reply back ya get upset .GTFOH! If you not BARDIGANG then why the fuck you here ?

— iamcardib (@iamcardib) March 24, 2019
It's safe to say that Cardi was upset by some things fans were saying on her social media. The "Please Me" rapper, felt the need to retaliate and let people know that she's not one to be messed with.
After two days of full on ranting, Cardi decided to chill and quit Twitter for a few days. Not only did she manage to get her point across, but she found a couple of fans who had her back and agreed with her.
Okay I'm off Twitter for a few days 😘Have fun.

— iamcardib (@iamcardib) March 24, 2019
Some of Cardi's rants address serious issues concerning class, race and status in relation to Cardi before money, in contrast to Cardi the superstar. Cardi B was able to let off some steam and then disappeared after leaving Twitter in a frenzy.