Cardi B Admits "Drugging & Robbing" Men In Wild Instagram Live Rant
26 March 2019, 12:00 | Updated: 26 March 2019, 12:30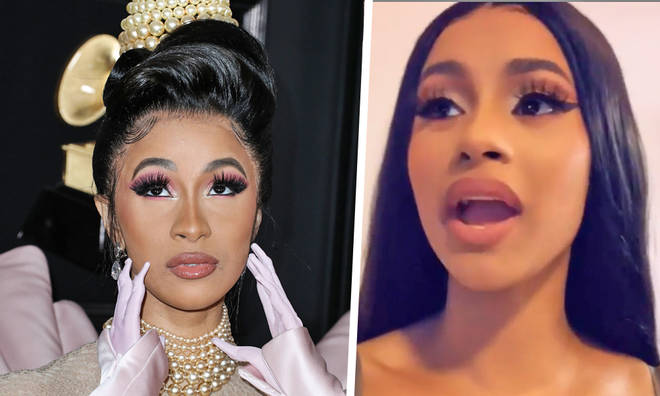 In a shock rant on Instagram live, rapper Cardi B admitted she used to drug men and rob them when she worked as a stripper.
Ever since Cardi B made waves in the music scene with her breakthrough hit 'Bodak Yellow' she's always admitted that she's a "street b**ch", but a new Instagram live rant has sparked the hashtag #SurvivingCardiB just days after she blasted fans and quit Twitter.
During Cardi's angry rant, the rapper who's married to Migos star Offset, admitted to giving men drugs and then robbing them back when she worked as a stripper before her music career began.
In the video, Cardi B says "I had to go strip, I had to go, 'Oh yeah, you want to f*ck me? Yeah yeah yeah, let's go back to this hotel,' and I drugged n****s up and I robbed them. That's what I used to do."
Cardi B later took to Twitter, which she had been taking a break from and wrote, 'IM THAT BITCH THEY LOVE TO HATE,IM THAT BITCH THEY HATE TO LOVE and I love it'.
Social media was filled with various reactions to Cardi B's confession and it sparked the #SurvivingCardiB hashtag, which is a reference to the #SurvivingRKelly documentary addressing claims of sexual miscoduct around the R&B star.
Twitter's cancel culture was out in full effect and there was a strong response from people claiming the 'Please Me' rapper should face charges for her crimes...
Why no outrage about cardi b admitting to drugging and robbing dudes? R. Kelly...nvm... forgot y'all got selective anger..

— BasketballGod🏀 (@_Thirst22) March 25, 2019
why isn't anyone talking about #CardiB and her drugging men then robbing them… like if this were a man for example… this would be a different story. waiting for #survivingcardib

— rebecca (@rebecca01146617) March 24, 2019
Since streaming the video, Cardi B hasn't directly addressed the response to her own claims she made about drugging and robbing men during her Instagram live.
> Download Our Free App For All The Latest Cardi B News!