Beyoncé & Jay-Z On The Run 2 Tour: The Setlist, Stage Times, Support Acts & More
13 June 2018, 12:27 | Updated: 13 June 2018, 12:31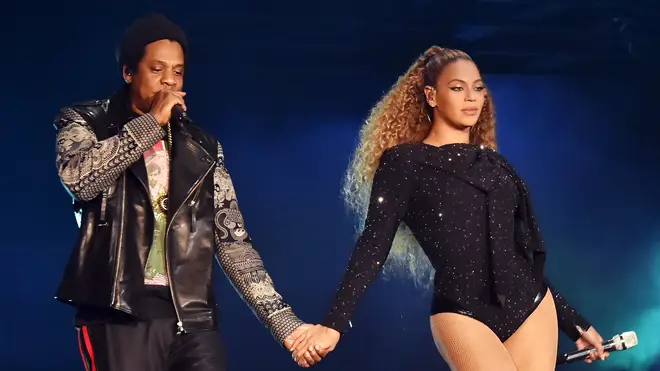 Here's everything you need to know about Beyonce & Jay Z's joint stadium tour.
Beyoncé and Jay Z have officially kicked off their On The Run II stadium tour, so we have our first sneak peak at the full setlist, merchandise, support acts and more.
The 'Single Ladies' songstress has teamed up with her rap mogul husband for another joint tour following the success of their On The Run debut tour in 2014 and Beyonce's Formation World Tour in 2016.
Bey and Jay Z have already taken to the stage in Cardiff and Glasgow's Hampden Park and they're heading to Manchester's Etihad Stadium on June 13th, followed by two dates at the London Stadium in Stratford's Queen Elizabeth Olympic Park on June 15th and 16th.
Here's everything you need to know.
Where and when are the On The Run 2 UK tour dates?

Beyoncé and Jay Z will be performing four shows during the UK leg of their On The Run 2 tour:

- Wednesday 6th June - Cardiff (Principality Stadium)

- Saturday 9th June - Glasgow (Hampden Park)

- Wednesday 13th June - Manchester (Etihad Stadium)

- Friday 15th June - London (London Stadium)

- Saturday 16th June - London (London Stadium)

What are the running times for the On The Run 2 UK shows?

Although there are no official Manchester set times just yet, based on the key times for the Cardiff show they will probably be as follows:

- 5pm - Gates open

- 6pm - Road closes

- 7pm - Support act

- 7.30pm - Beyonce and Jay-Z on stage

- 10.30pm - Show finishes

- 11.30pm - Road opens

What is the setlist for the On The Run 2 UK tour dates?

Beyoncé and Jay Z have recorded countless guest over the years which remain firm fan favourites during both their solo and joint tours. Expect chart-topping collaborations like 'Crazy In Love', '03 Bonnie & Clyde', 'Drunk In Love', 'Deja Vu' and 'Upgrade U'.

DJ Khaled's 'Top Off' featuring Bey and Jay is also likely going to be thrown in the mix, as well as a number of solo efforts from both artists from 'Big Pimpin' to 'Run The World (Girls)'.

This full setlist is representative of the Cardiff show on Wednesday 6th June, so it may be subject to change and adapt from show to show but if you're going to the Manchester show you could potentially expect:

"Holy Grail"

"Part II (On the Run)"

"03' Bonnie & Clyde"

"Drunk in Love"

"Clique"

"Diva"

"On to the Next One"

"FuckWithMeYouKnowIGotIt"

"***Flawless"

"Feeling Myself"

"Top Off"

"Naughty Girl"

"Big Pippin'"

"Run This Town"

"Baby Boy"

"You Don't Love Me (No, No, No)

"Bam"

"Hold Up" / "Countdown"

"Sorry" / "Me, Myself & I"

"99 Problems"

"Ring the Alarm"

"Don't Hurt Yourself"

"I Care"

"4:44"

"No Church in the Wild"

"Song Cry" / "MaNyfaCedGod"

"Resentment"

"Family Feud"

"Upgrade U"

"N***** In Paris"

"Beach is Better"

"Formation"

"Run the World (Girls)"

"Public Service Announcement"

"The Story of O.J."

"Dèjá Vu"

"Show Me What You Got"

"Crazy in Love"

"Freedom"

"U Don't Know"

"Perfect Duet"

"Young Forever"

"Shining"

Who are the support acts for the On The Run 2 UK shows? Are there any special guests?

With frequent collaborator DJ Khaled and Parkwood Entertainment signees Chloe x Halle joining Beyoncé and Jay Z for the North American leg of the tour, it's likely that the duo will pull out all the stops for their UK stint as well.

Before the duo hit the stage in Cardiff on Wednesday 6th June, a local Welsh DJ named Tom Clugston - a.k.a. DJ Killer Tomato - warmed up the crowd before the headliners took over. In Glasgow, a Scottish DJ named Nasty P was on hand to deliver the tunes. While in Manchester, a local DJ called Stylus is set to warm up for The Carters at the Etihad Stadium.

Keep your eyes peeled on this page for updates on who will be supporting the Carters on their hotly anticipated tour.

What does the On The Run 2 merchandise look like and how much is it?

The official tour merchandise includes a classic tour T-shirt which comes in black or white. It features a list of names of all the cities on the tour schedule and costs £30.

The dark green long-sleeved tops with 'II' printed on the front will set you back £35, while a jumper in the same colour costs £60. A black hoodie with 'Higher' written on it in green writing comes in at £60.

A jacket with the famous 'OTRII' promotional tour image of Bey and Jay comes in at £70 alongside a beige baseball cap costing £30.

There are also more T-shirts featuring images of Beyoncé and Jay-Z handcuffed together, as well as image of the car used in the promotional photos. Both cost £30.

Picture-fronted T-shirts including the Lemonade cover, a Nefertiti-inspired profile shot and one with Beyoncé's coat-of-arms (made famous at Coachella) are all priced at £30.

Beyoncé also made sure that her Ivy Park range is being represented, with her black logo T-shirts and hoodies being sold at £30 and £60, respectively.

Are there any banned items that I can't take in?

A list of banned items at the Manchester Etihad stadium include:

- Firearms

- Knives

- Smoke canisters Air-horns

- Trumpets

- Flares

- Weapons

- Laser devices

- Transmitting devices

- Golf Umbrellas

- Spray paint

- Illegal Substances

- Flash photography or other lighting devices

- Flags

- Scooters, skateboards and other skates

- Dangerous or hazardous items

- Bottles, glass vessels, cans

- Poles (longer than one metre)

- Balls, Frisbees or similar items

- Unauthorised fliers

- Fireworks

- Smoke Bombs and any article that might be used as a weapon and/or compromise public safety.

Any person in possession of such items will be refused entry to the Stadium.