Ariana Grande Responds After Being Slammed For Appropriating Japanese Culture
6 February 2019, 12:12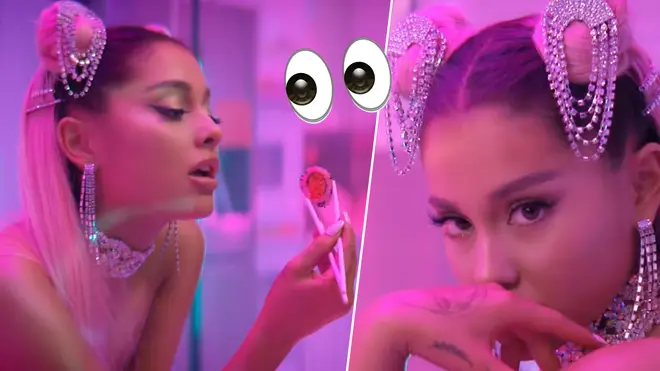 The '7 Rings' singer defended herself in a series of since-deleted tweets after being accused cultural appropriation, in light of her failed Japanese tattoo.
Ariana Grande has spoken out after being accused of cultural appropriation.
The 25-year-old songstress was first hit with claims of plagiarism following the release of her latest single, '7 Rings', by rappers Soulja Boy and Princess Nokia.
Soon after, Grande then got a tattoo on the palm of her hand written in Japanese characters in honour of the song, before fans pointed out that the inking was in fact misspelled.
The singer was also accused of ripping off Japanese culture in an attempt to promote her new song, which bares no obvious connection to the culture at all.
Following the backlash, Grande took to Twitter to defend her actions, bringing up her misspelled "7 Rings" tattoo, which actually reads "Japanese BBQ finger."
"I can't read or write kanji obviously," she said after someone said she would apologise for using the language. "What do you want me to do? It was done out of love and appreciation. What do you want me to say?"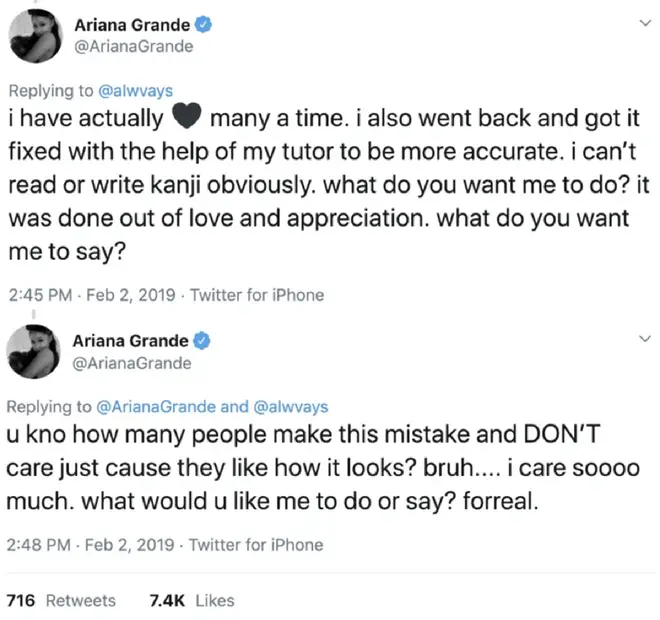 The Grammy-nominated singer also claimed that she cares "soooo much" about the mistake, before pointing out the differences between cultural appropriation and appreciation.
"There is a difference between appropriation and appreciation," she wrote. "My japanese fans were always excited when i wrote in japanese or wore japanese sayings on my clothing.
"However, all of the merch with japanese on it was taken down from my site not that anyone cared to notice." Grande went on to mention her "crippling anxiety" and questioned why people weren't being more forgiving towards her.
"It's very pointless I don't even know why I'm talking about this anymore."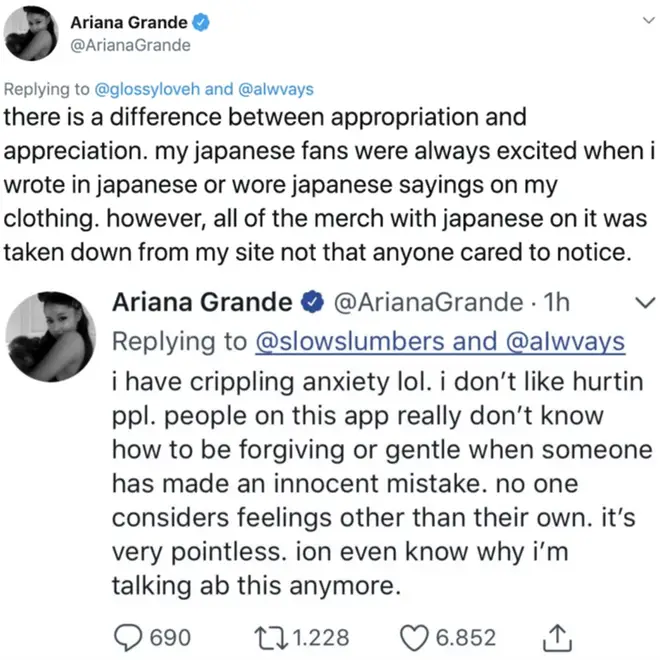 However, not everyone was convinced by Ariana's statement, and many took to Twitter to slam the singer for not properly apologising for her actions.
"Ariana Grande's tattoo is cultural appropriation and super disrespectful to Japanese people/ their language. It's a harmful tattoo," wrote one user. "Y'all gotta start calling out ur faves when they're being problematic."
"Like ariana just had to say she f*cked up and she was sorry but she keeps going back and forth and trying to make herself seem like a victim and trying to make ppl feel bad bc she's sensitive but like??? it didnt need to be like this," wrote another.
Meanwhile, Grande confirmed that her next single will be 'Break Up With Your Boyfriend, I'm Bored' - which is rumoured to be about her ex-boyfriend Big Sean - taken from her upcoming album 'Thank U, Next.'