50 Cent trolls "fat boy" Suge Knight amid claims he kept Snoop Dogg out of jail
27 November 2019, 13:03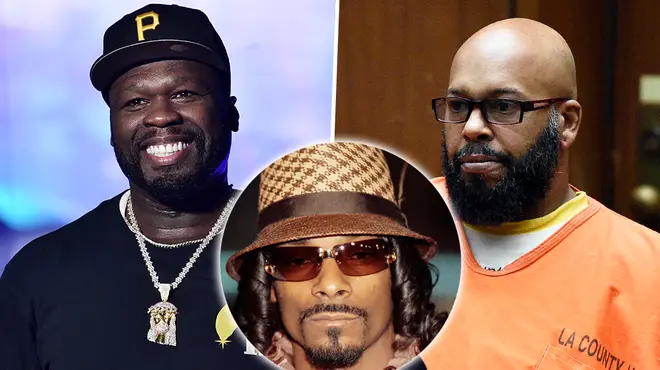 Rapper 50 Cent has trolled Suge Knight after he claimed he kept Snoop Dogg, Dr.Dre and Nate Dogg out of prison.
Power executive producer 50 Cent has show a level of respect, while still trolling Suge Knight. The hip-hop mogul has shared footage of Suge revealing how he helped keep former Death Row Records artists out of prison.
On Sunday (Nov 24) 50 took to Twitter to salute Knight for holding down rap icons Snoop Dogg, Dr. Dre and Nate Dogg.
In the video 50 Cent uploaded to Twitter, Suge revealed how he helped keep his "people" out of prison. "Snoop was supposed to go to prison for the rest of his life" while a mugshot of snoop from his 1993 2nd degree murder case is shown.
50 Cent captioned the video "Fat boy looked out for n***as on the low" after Suge explains he paid millions to keep his Death Row artists out of jail.
"Well I had the money to fight Snoop's case. We didn't have no songs done. If we would have lost, he would have gone to prison for the rest of his life, that's it".
"You know, that was my people, so I didn't wanna see this n***a go to jail for the rest of his life or anybody else". "So, I did whatever I had to do and make sure my money went to use, to make sure he didn't go to prison"
Knight then goes on to tell the story about how he helped Dr.Dre stay out of jail.
"And before that, I stopped Andre from going to prison, three times. So, we paid all that money, worked out the little deal, that worked out the situation where, he had to go to county jail for a minute".
Suge Knight then revealed that Nate Dogg was caught on camera robbing Taco Bells five times. "I paid a quarter of a million dollars to make sure to get the sh*t beat so he won't go to prison".
Although 50 Cent trolls Suge by calling him a "fat boy", the message is still praising him for looking out for his Death Row artists.