50 Cent defends Diddy and labels Comcast "racist" amid discriminatory case
22 November 2019, 16:52 | Updated: 6 February 2020, 17:00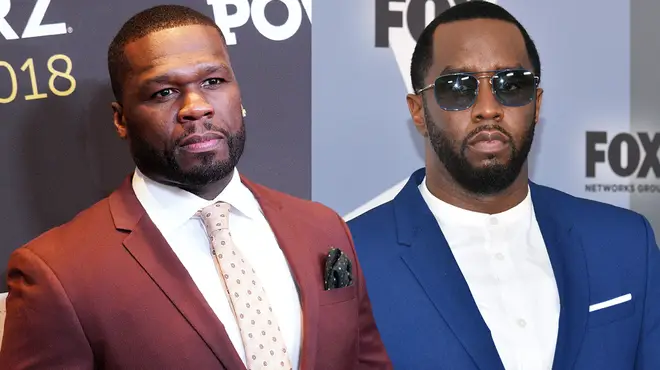 Power executive producer 50 Cent has defended Diddy after he called out Comcast for using REVOLT to deflect their "discriminatory practices".
50 Cent has defended Diddy in a recent Instagram post, after Diddy issued a statement in response to Comcast mentioning his name in court.
Comcast reportedly used Diddy's network brand REVOLT, in order to sway allegations of discriminatory practices. Diddy called them out publicly with a formal message on Instagram. The hip-hop mogul also took to Twitter to call them out.
50 Cent, who has called out Comcast in the past has sided with Diddy on this matter. Although Fif usually trolls Diddy, he recognises the situation is a serious one and has defended Diddy.
On Wednesday (Nov 21) 50 Cent made it clear that Comcast has been rubbing him the wrong way.
"I'm with Diddy on this one Comcast bugging out they are racist," 50 Cent wrote on Instagram.
Comcast previously threatened to drop Starz, which provides a network to host Power. In a now-deleted post, 50 Cent also roasted the CEO of the company, sharing a photo of Brian Roberts, writing, "mother f**ker look like he been pushed around his whole life." 50 continued "He need to chill out, go to a golf course or sit his a*s down some where."
Diddy revealed that his business with Comcast haven't shown any signs of true inclusivity.
"Comcast spends billions of dollars on content networks every year, but just a few million go to African American owned networks like REVOLT. That is unacceptable," said Diddy.
Diddy continued "REVOLT has never been in a position to truly compete on a fair playing field because it has not received the economic and distribution support necessary for real economic inclusion. Our relationship with Comcast is the illusion of economic inclusion."
What do you think ?