50 Cent Savagely Trolls His "Son" Tekashi 6ix9ine Over His Potential Jail Sentence
11 October 2018, 12:53
The 'Power' actor mockingly begged the judge to allow him to chaperone the 'GUMMO' rapper to any upcoming court hearings.
50 Cent has trolled his "son" Tekashi 6ix9ine over his recent jail threats.
The 'Power' actor, who recently abandoned his popular Instagram page in favour of Twitter, posted a screenshot of an article outlining the 'GUMMO' rapper's ongoing legal issues.
6ix9ine has allegedly been avoiding court by travelling around European recent months. After missing a court hearing this week, a judge has threatened that if he misses another, he may face jail time.
After catching wind of his fellow New York native's latest incident, Fif took to Twitter to play the rapper at his own game. "My son is a little retarded your honor is there anyway, l can go get him and bring him to court," he wrote.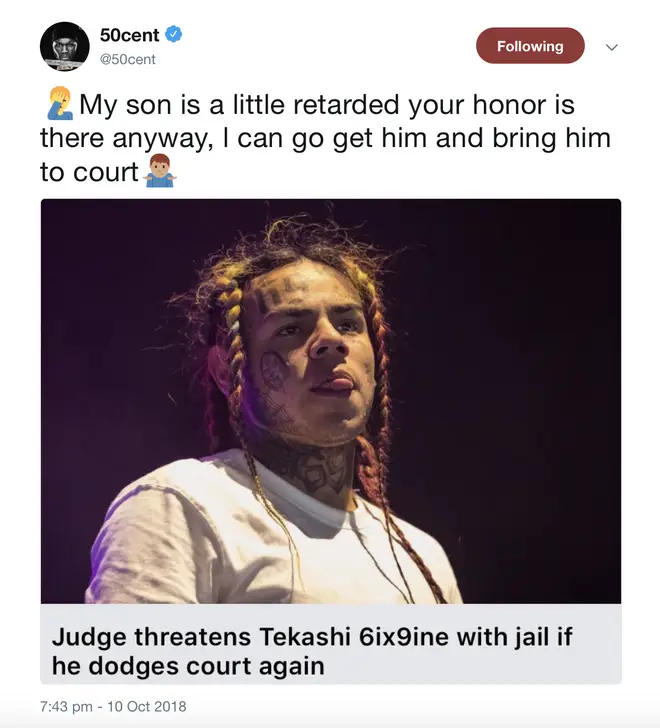 Following his recent travels, 6ix9ine, who recently unleashed his new single 'STOOPID' with incarcerated rapper Bobby Shmurda, landed back on his home turf.
The rapper posted a video of himself stepping out of a cab and onto the streets of New York City, captioning it "THE KING IS BACK" with a slew of exclamation marks.
The rapper is set to appear in court next week. He is yet to respond to 50's latest jab.