50 Cent Responds To Nicki Minaj After She Roasted Him In 'Barbie Dreams'
24 August 2018, 11:59 | Updated: 24 August 2018, 12:14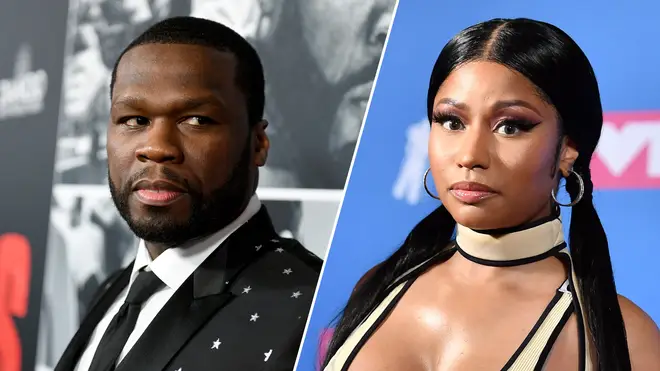 The rapstress called out 50 in her new song.
When Nicki Minaj dropped her album 'Queen' earlier this month, there was one track in particular that sparked discussion - enter, 'Barbie Dreams.'
The song pays homage to Biggie's 'Just Playing (Dreams)', where he raps about his attraction to popular female R&B singers. On 'Barbie Dreams', Minaj flips this concept on its head as she roasts a whole host of popular male stars.
The list features friends, collaborators and ex-boyfriends, and includes rappers like Drake, Meek Mill, Eminem, DJ Khaled and 50 Cent, the latter of whom has responded.
When referring to the rapper-turned-actor, Minaj spits, "I tried to f**k 50 for a powerful hour, but all that n***a wanna do is talk Power for hours," referencing the popular TV drama he produces and co-stars in.
In an interview with Extra TV, 50 said was actually a fan of the track. He recalled how Minaj had previously said that she was inspired by his 1999 debut single 'How To Rob', which saw him brag about robbing the most prolific rappers in the game at the time.
"It brings everyone in the culture that is relevant at the time 'cause they're on her mind when she's writing the music," he said. "To get it from a reverse perspective, it's cool to see that women in hip-hop have come to a point where they can do it their way."
Shortly after the track dropped, Minaj took to Twitter to clarify that the track wasn't actually a diss track following confusion from fans.
"I only mentioned people in #BarbieDreams that I f*k with. This isn't a diss. Yikes," she wrote."This is culture, this is BIGGIE!!!!! New York!!!! Thi is FUN. Light hearted fun FUN."
I only mentioned people in #BarbieDreams that I fuk wit. This isn't a diss. Yikes. This is culture, this is BIGGIE!!!!! New York!!!! This is FUN. Light hearted fun FUN

— QUEEN (@NICKIMINAJ) August 10, 2018