50 Cent Trolls Kanye West After "Fyre Festival" Sunday Service Brunch
5 November 2019, 16:24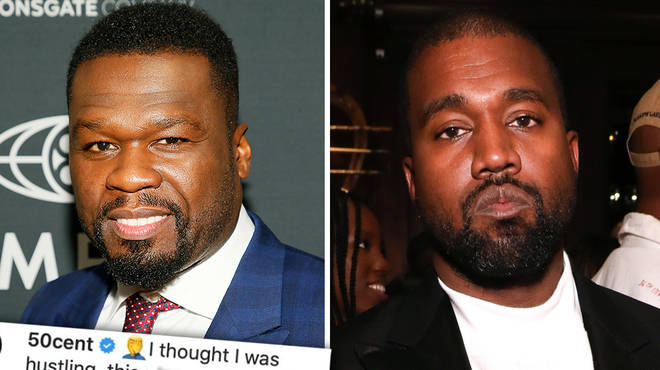 Rapper 50 Cent has taken to Instagram to mock Kanye West, after his 'Brunchella' event was compared to Fyre Festival.
50 Cent has been busy promoting upcoming Power episodes, but has still found the time to continue with his trolling activities.
On Sunday (Nov 3rd) the "In Da Club" rapper trolled Kanye West after discovering a news article, which revealed Sunday Service church attendees were getting ripped off for their $55 Brunchella meals.
A lunch attendee exposed the rapper on Facebook, after being served such a little amount of food, after paying $55 for the VIP Brunchella experience.
The post went viral, with many fans comparing Ye's Sunday Service meals to the food festival go-ers were served at Ja Rule's Fyre Festival.
After seeing the article, Fif took to Instagram and posted screenshots of the headline.
The Daily Mail article read "Outrage as Kanye West sells 'rip-off' $55 'Brunchella' VIP breakfast plate at church service and suddenly everyone is reminded of FYRE FESTIVAL."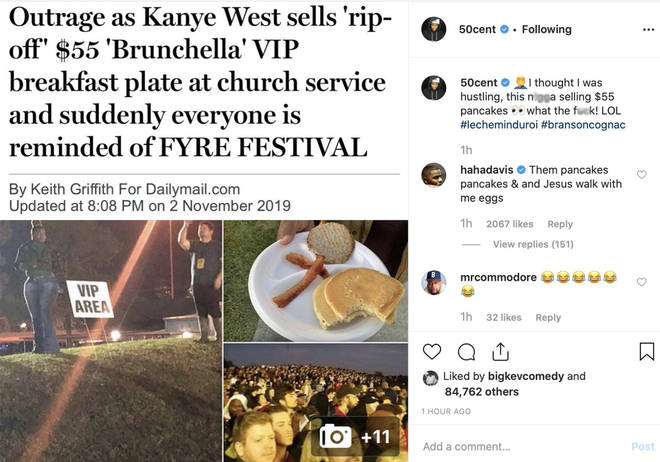 50 Cent captioned the photos "The n!**a selling $55 pancakes. What the f**k! LOL."
The caterers at the event, Lauryn's Fine Catering, later issued a statement regarding the service that was provided to the event.
The statement reads "We were contacted only 28 hours prior to the event, after the $55 price had been set by the organizers, not Lauryn's Fine Catering".
"We regret that our food ordered by the organizers, was not what the guests had envisioned, and did not remain hot at all times, as the warming dishes were susceptible to the 35 degree weather, and our goal was to serve the more than 2,000 VIP guests as quickly as possible."