Ja Rule Brutally Trolls 50 Cent With Savage Tekashi 6ix9ine "Snitch" Photo
19 September 2019, 10:42 | Updated: 19 September 2019, 10:45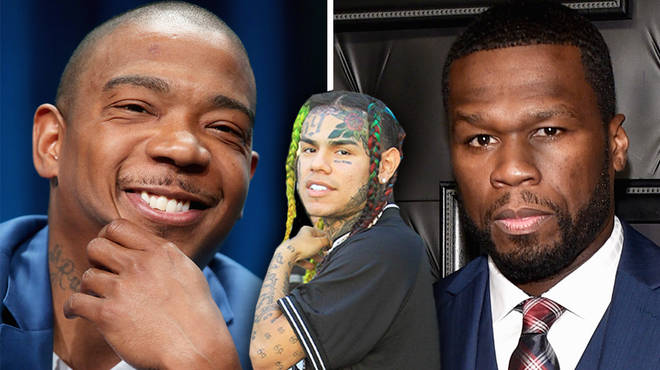 Rapper Ja Rule savagely trolls 50 Cent with a photo of him & Tekashi 6ix9ine, who he brands a "snitch". Ja also gave Fif a new name & banned him from Detroit.
Ja Rule has been beating 50 Cent at his own game recently, constantly firing shots at the rapper on Instagram. With Tekashi 6ix9ine's trial being exposed, many rappers including 50 Cent has roasted the rainbow-haired rapper for being a "snitch" - cooperating with police.
However, Ja Rule has used Fif's own disses against him, by posting a photo on IG of Tekashi 6ix9ine and 50 together. The "Mesmerize" rapper covered the photo in text, labelling 6ix9ine "Snitch" and 50 Cent a "W*nksta".
Ja Rule took to Instagram and wrote "HEY FOOFY DONT WORRY ABOUT WHAT WE DOING WITH THE SUPREME TEAM MOVIE... WORRY ABOUT GETTING MORE POLICE SECURITY," underneath the photo of the pair.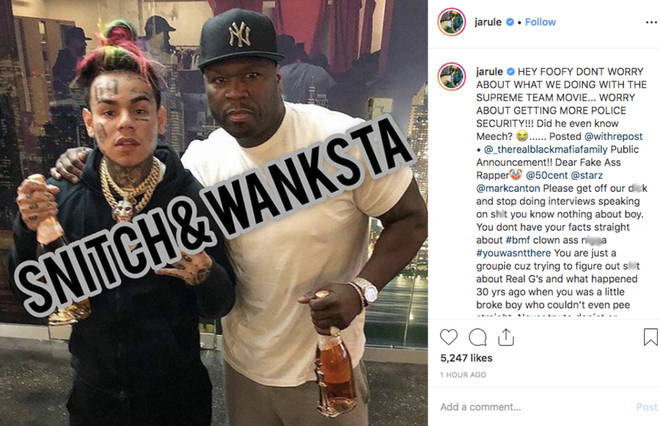 "Please get off our d*ck and stop doing interviews speaking on sh*t you know nothing about boy," says the post.
"You dont have your facts straight about #bmf clown ass n***a #youwasntthere You are just a groupie cuz trying to figure out sh*t about Real G's and what happened 30 yrs ago when you was a little broke boy who couldn't even pee straight."
The post continues: "How many times we gotta tell you this aint some fairytale sh*t made up by a bunch of white writers in Hollywood like #power Matter of Fact You Banned DONT COME TO DETROIT🚫You trying to use #bmf for street credibility cuz you have none❌You running around with wanna be's & paid police."