50 Cent Trolls Floyd Mayweather Over His "Granny Drip" Outfit In Savage Post
7 October 2019, 10:53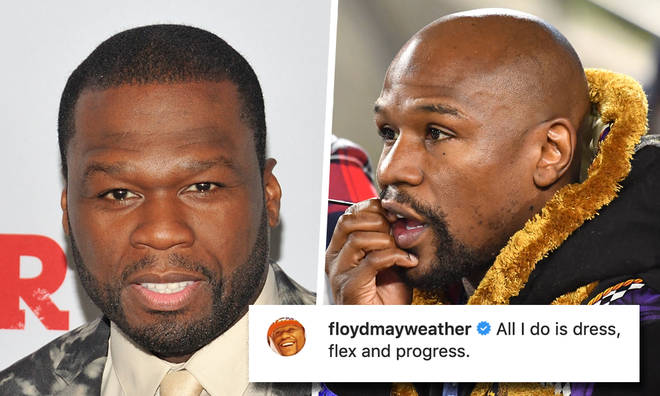 50 Cent and Floyd Mayweather's ongoing feud continued with the rapper mocking the boxing legend on Instagram.
50 Cent and Floyd Mayweather's continuing feud is nothing new. The pair have been going at each other for years now and the latest round has seen Fiddy attack his online sparring partner's Louis Vuitton look.
Posting a picture of himself wearing a Louis Vuitton outfit accompanied with sunglasses and pearls, Floyd accompanied the picture with the caption 'All I do is dress, flex and progress.'
Never wanting to miss an opportunity to take a swipe at the former world boxing champion, 50 Cent then reposted the picture on his own Instagram account and captioned it 'Champ on his bulls**t again. dats that granny drip LOL."
50 Cent's post wasn't finished there though as Floyd's face in the snap had been replaced by and elderly woman's, adding further insult to Fiddy's "granny drip" jab, however 50 Cent later deleted the post from his account.
This is the latest of duels in their continuing feud and comes just a few months after 50 Cent trolled Floyd Mayweather's literacy ability.
On Sunday (Aug 11) 50 Cent took to Twitter and shockingly wrote "Tell Floyd I said he won he is the greatest of all time. and nobody I mean nobody can ever take that away from him what he's done with his life is amazing." Fif continued "I'm done with all of the back and forth," he wrote on Twitter.
50 Cent then shaded Mayweather's reading abilities, writing "Now Can Someone Please Read This To Champ."This diss was in retaliation to Mayweather reposting an article which read "Kanye Easily Beats 50 Cent In Sales Battle".
> Download Our Free App For All The Latest Music News!