50 Cent Defends Eminem After Lord Jamar's Explosive Surprise Attack
17 May 2019, 12:56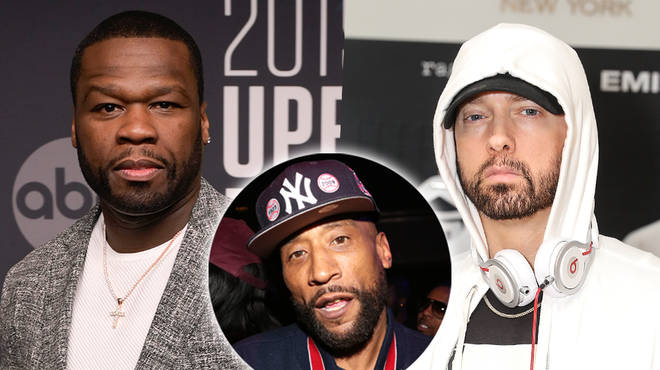 50 Cent takes to Instagram to clap back at Lord Jamar following his opinionated rant about the rap legend Eminem...
50 Cent has taken to the 'gram to blast rapper Lord Jamar over his recent comments, trashing legendary rap extraordinaire Eminem. Fiddy couldn't help but defend his rap friend - who he has shared years in the game together with.
Lord Jamar has gotten blasted by 50 Cent on Instagram and has been accused of "Clout Chasing" for his Eminem criticisms.
Lord Jamar, who is a member of The Brand Nubian, recently did an interview with RapMatic, and continued his tirade against the Detroit icon, explaining why he isn't fund of the artist.
He referred to Eminem as "wack" and made a bold statement by saying black people don't listen to Eminem's music.
50 Cent took to Instagram and posted a selfie of Lord Jamar, with a font overlay, that reads "Clout Chaser". Fiddy then captioned the photo "Lord Jerome better sit his ass down," 50 wrote.
He continued "I thought you died already N**ga. Get the f*ck outta here 🤔you ain't Grand Puba anyway. I'm gonna need a bum ass n**ga in one of my shows. I'll be reaching out shortly."
During the interview, Jamar went into detail about why he thinks Eminem is "Wack"
He stated:"My thing about Eminem and all that — and I hate bringing his fu**ing name up — my thing about this muthf**ka' is you can't crown somebody king and circumvent the true kingdom," Jamar explained.
He continued: "White people will crown Eminem king because he sold the most records out of all rappers, but when we go into every day life of black people, people who are the originators of this s**t, we don't fu**ing listen to Eminem.
He also suggested that black people who listen to Eminem are "corny".
He states: "We don't go to the gym and turn on Eminem. We don't turn on Eminem on the way to the club — I'm talking about live ni**as, I don't know about corny ni**as".
He also "You don't hear Eminem in the club unless he's f**king with somebody else on the record."