50 Cent Just Roasted Ray J With A Savage Joke About Kim Kardashian
10 May 2019, 12:08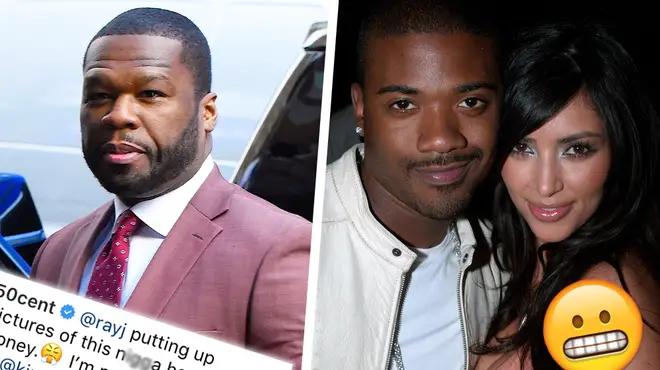 50 Cent savagely trolled Ray J with a joke about Kim Kardashian during their Instagram beef, over actor Jackie Long...
50 Cent has been going in on social media to call out people that owe him money. Actor Jackie Long has been the latest celebrity victim of 50's trolling. Long responded to Fiddy and claimed that he did pay 50 the $250K he had borrowed.
After R&B singer and Love & Hip Hop star Ray J posted a photo with Jackie Long, 50 Cent commented on the photo with his trolling. Ray-J responded and landed himself in a savage joke response from Fiddy.
An hour after 50's post calling out Jackie Long, Ray J posted aphoto of himself with Long on Instagram.
He also captioned the photo "Now we calling @jackielong Billboard Jack! Bc everywhere we drive in Hollywood I see a big ass billboard of tha homie!! #LevelUp 🔥 #progression — 💰💰"
Fifty just had to comment and responded underneath the post, saying "N*gga you posting this n*gga Jackie, and I just said he owe me money."
Ray J responded back to Fiddy and let him know he's in control of what he posts. He responded "I post what I want."
Then, 50 Cent obviously has to go extra hard with the trolling and went back to his own page to post a photo of Ray-J and Long. He captioned the photo with the most savage comment, bringing Kim Kardashian into the beef.
50 wrote "@rayj putting up pictures of this nigga he owe me money.😤 I'm not like you ray you let @kimkardashian run off wit all the fucking money.😠mind ya business man"
Jackie Long is an actor who has had roles in The New Edition Story, ATL, The Parkers, Real Husbands of Hollywood, Playa's Ball, and BET's new show Games People Play.