Zone 2's 'No Censor' video removed: YouTube issue official statement
11 December 2019, 16:10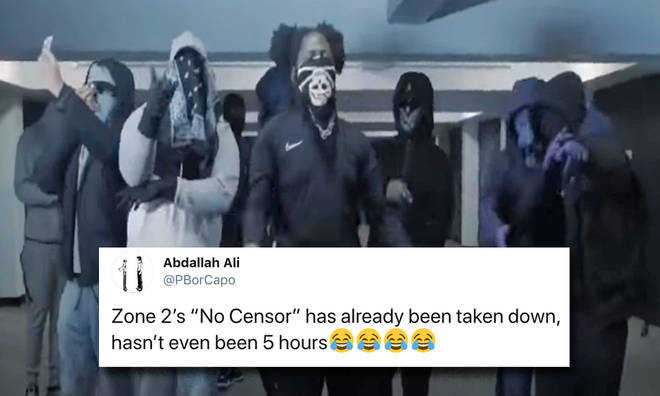 Drill group Zone 2's song 'No Censor' was removed from YouTube after only being up for around 24 hours.
Zone 2's music video for their song 'No Censor' was available on YouTube less than 24 hours before it was removed after claims that the Drill collective were using the platform to "incite violence".
'No Censor' sees members from Zone 2 openly naming members of rival gangs who have been killed, with one particular lyric appearing to see a member of the group mocking the death of his own cousin from rival gang Moscow 17.
Zone 2's "No Censor" has already been taken down, hasn't even been 5 hours😂😂😂😂

— Abdallah Ali (@PBorCapo) December 9, 2019
Now YouTube have issued an official statement on the 'No Censor' video being pulled from its platform and they said, "We have developed policies specifically to help tackle videos related to knife crime in the UK and are continuing to work constructively with experts on this issue.
"We work with the Metropolitan Police, The Mayor's Office for Policing and Crime, the Home Office, and community groups to understand this issue and ensure we are able to take action on gang-related content that infringe our Community Guidelines or break the law.
"We have a dedicated process for the police and the Prison Service to flag videos directly to our teams because we often need specialist context from law enforcement to identify real-life threats.Along with others in the UK, we share the deep concern about this issue and do not want our platform used to incite violence."
This Zone 2 - No Censor video is literally a confession, why have they done this?

Total nihilism.

— David Belle (@macrodesiac_) December 9, 2019
One of the most controversial lyrics in Zone 2's 'No Censor' sees rapper Trizzac reference the death of his cousin and rival gang member Siddique Kamara aka Incognito.
Trizzac can be heard rapping "Why'd you think that they call me Judas? I laugh and giggle at my dead opp cousin (Incog)."
Fans have dubbed 'No Censor' as the rudest Drill song of 2019 and shared their reaction to the track on Twitter...
Zone 2- No censor is the rudest track in 2019 without a doubt

— Kylian🥊 (@ziyosparta) December 9, 2019
Zone 2, don't bother going church anymore. No censor showed god wag1 and he's made his decision on where you're going😭😭😭 #zone2

— HusseinKaranda (@HusseinKaranda) December 10, 2019
There's been no word yet as to whether the group will be allowed to reupload a censored version of 'No Censor', as other artists have been able to do in the past.
> Download Our Free App For All The Latest Music News!