Watch The Heartbreaking Video XXXTentacion Posted Just Hours Before Fatal Shooting
19 June 2018, 10:57 | Updated: 19 June 2018, 17:16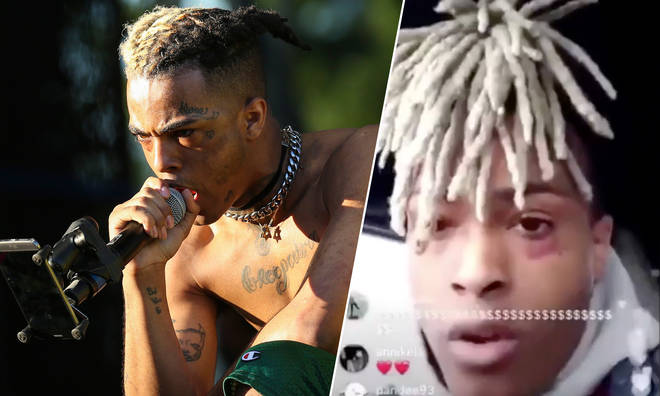 The rapper was shot and killed during an apparent robbery.
XXXTentacion posted a haunting video just hours before he was fatally shot on Monday (18th June.)
The 20-year-old rapper, real name is Jahseh Onfroy, was shot and killed during an apparent robbery outside a motorcycle dealership in Deerfield Beach, Florida.
In the hours before his death, Onfroy addressed his fans during an Instagram Live and spoke of how he wanted his legacy to live on after he passed. He also said he wanted his fans to "make something of themselves" during the inspirational speech.
"If worse thing comes to worst, and I f***ing die or some s**t and I'm not able to see out my dreams, I at least want to know that the kids perceived my message and were able to make something of themselves and able to take my message and use it and turn it into something positive and to at least have a good life," he said.
The rapper appears to eerily predict his own passing in the heartbreaking footage, before adding that, despite his controversial reputation, he wished to make his fans happy.
"If I'm going to die or ever be a sacrifice, I want to make sure that my life made at least five million kids happy or they found some sort of answers or resolve in my life regardless of the negative around my name, regardless of the bad things people say to me," he said.
The Florida native rapidly rose to fame in 2016 after his song 'Look at Me' went viral on Soundcloud, with his latest album "?" debuting at number 1 on the Billboard chart.
At the time of his death, Onfrey was awaiting trial for a domestic violence case involving his pregnant girlfriend and was allegedly facing a number of separate felony charges included counts of false imprisonment and domestic battery by strangulation.
"I don't give a f**k because I know my goal in the end and I know what I want for everyone and I know what my message is. I just wanted to say, I appreciate and love all of you and I believe in you all," XXXTentacion continued.
"Do not let your depression make you. Do not let your body define your soul, let your soul find your body. Your mind is limitless. You are worth more than you can believe. All you have to do is dream and all you have to do is want to fulfill that dream and have the strength."
Following Onfrey's death, many Hip-Hop stars took to social media to acknowledge his loss and his legacy.