XXXTentacion 'Bad Vibes Forever' new album 2019: tracklist, release date, features & more
5 December 2019, 10:21 | Updated: 3 February 2020, 16:04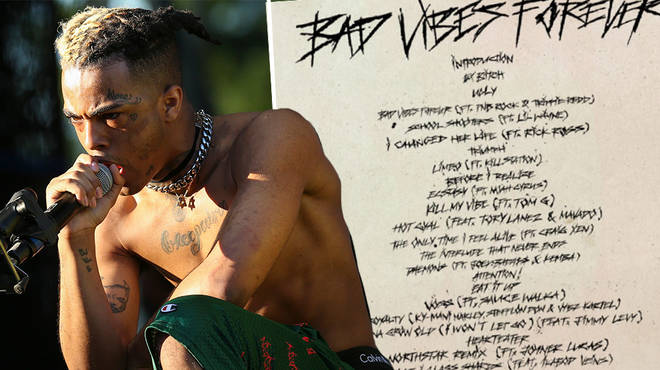 Late rapper XXXTentacion's estate has announced the track-list for his final album 'Bad Vibes Forever'.
XXXTentacion's final album 'Bad Vibes Forever' tracklist is finally here.
On Tuesday (Dec. 3), XXX's mother, Cleopatra Bernard, took to Instagram to share the tracklist for X's final posthumous album Bad Vibes Forever. In the caption for the post, X's mother wrote, "Bad vibes forever".
Release date
The highly anticipated final album from late rapper XXXTentacion's is set to drop Friday (Dec 6th).
Tracklist
The tracklist features a mix of rappers from both X's Members Only collective and rap superstars from across the game.
Lil Wayne, Joyner Lucas, Rick Ross, Trippie Redd, Tory Lanez, PnB Rock, Stefflon Don, Joey Bada$$ and Members Only's Craig Xen all make appearances on the new LP and Blink-182 also pops up for a feature.
See tracklist below.

1. "Introduction"
2. "Ex Bitch"
3. "Ugly"
4. "Bad Vibes Forever" featuring PnB Rock and Trippie Redd
5. "School Shooters" featuring Lil Wayne
6. "I Changed Her Life" featuring Rick Ross
7. "Triumph"
8. "Limbo" featuring Killstation
9. "Before I Realize"
10. "Ecstasy" featuring Noah Cyrus
11. "Kill My Vibe" featuring Tom G
12. "Hot Gyal" featuring Tory Lanez and Mavado
13. "The Only Time I Feel Alive" featuring Craig Xen
14. "The Interlude That Never Ends"
15. "Dæmons" featuring Joey Bada$$ and Kemba
16. "Attention!"
17. "Eat It Up"
18. "Voss" featuring Sauce Walka
19. "Royalty" featuring Vybz Kartel, Stefflon Don, and Ky-Mani Marley
20. "Wanna Grow Old (I Won't Let Go)" featuring Jimmy Levy
21. "Hearteater"
22. "Northstar Remix" featuring Joyner Lucas
23. "Chase / Glass Shards"
24. "Numb The Pain"
25. "It's All Fading To Black" featuring Blink 182

The estate of XXXTentacion released two tracks from the album. Last week, the "Moonlight" rapper's estate released "Bad Vibes Forever" which features Trippie and PnB Rock. Stefflon Don also features on X's "Royalty," with Ky-Mani Marley and Vybz Kartel.
Joey Bada$$ appears on a song called "Dæmons.". Back in January 2018, XXX and Joey Bada$$ teased a joint project which was allegedly completed before X's death.