Without Remorse film: Release date, cast, trailer, how to watch & more
4 March 2021, 11:40 | Updated: 4 March 2021, 12:55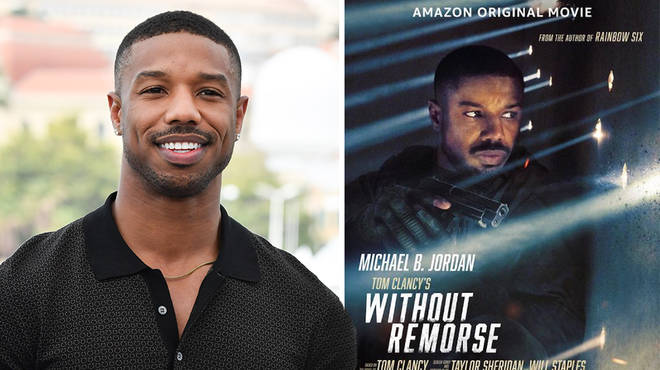 A new trailer has been released for the highly-anticipated film starring Michael B. Jordan and Lauren London.
Amazon has revealed a release date for the upcoming Michael B. Jordan starring film adaptation to Tom Clancy's 1993 novel Without Remorse.
During Super Bowl Sunday (Feb 7) it was revealed Without Remorse would be coming to the streaming platform with a smooth commercial for the new Alexa model starring Jordan.
Directed by "Sicario: Day of the Soldado" filmmaker Stefano Sollima (also television's "Gomorrah" and "ZeroZeroZero") the film sees Michael B Jordan play a U.S. Navy SEAL.
In July 2020, Paramount Pictures sold the Clancy adaptation to Amazon, which changed the movie's expected Fall 2020 release date to be extended to some time in 2021.
But when is the film being released, and who's casted for it? Find out more about the Without Remorse film below.
When is 'Without Remorse' coming out?

Without Remorse was initially scheduled to be released on September 18, 2020 by Paramount Pictures.

However, due to the COVID-19 pandemic, it was delayed to October 2, 2020, and then again, to February 26, 2021.

Now, Amazon has revealed a final release date for the movie, which is set to premiere on Amazon Prime Video on Friday, April 30 2021.

Amazon reveals the film will premiere on April 30th 2021.

Picture: Amazon

Who is in the Without Remorse cast?

Michael B. Jordan as John Clark
Jamie Bell as Robert Ritter
Jodie Turner-Smith as Karen Greer
Luke Mitchell as Rowdy
Jack Kesy as Thunder
Lauren London as Pam
Brett Gelman as Victor Rykov
Colman Domingo as Pastor West
Guy Pearce as Secretary Clay[4]
Jacob Scipio as Hatchet
Cam Gigandet as Keith Webb
Todd Lasance as Dallas

Lauren London plays Michael B Jordan's pregnant wife in 'Without Remorse'.

Picture: Amazon

What is the plot for 'Without Remorse'?

The plot revolves around Michael B. Jordan's character, Navy SEAL Sr. Chief John Kelly, and his search for justice after his wife, played by London, and family are murdered.

In his pursuit of the murderers, Sr. Chief Kelly along with another SEAL agent and a CIA agent uncover a potential war between the U.S and Russia. 

The official Amazon synopsis for "Without Remorse" reads: "An elite Navy SEAL uncovers an international conspiracy while seeking justice for the murder of his pregnant wife in 'Tom Clancy's Without Remorse,' the explosive origin story of action hero John Clark — one of the most popular characters in author Tom Clancy's Jack Ryan universe."

What is the 'Without Remorse' trailer?

On Wednesday, a trailer for the new action thriller movie Without Remorse was released.

Lauren London became trending on Twitter, as fans falsely accused her of being pregnant – to only find out that it was due to her baby bump in this film.

Check out the Without Remorse trailer below.

How can I watch 'Without Remorse'?

Without Remorse will be premiered globally on Amazon Prime Video, on April 30 2021.