10 Iconic Performances & Moments You Missed At The 2018 BET Awards
25 June 2018, 11:36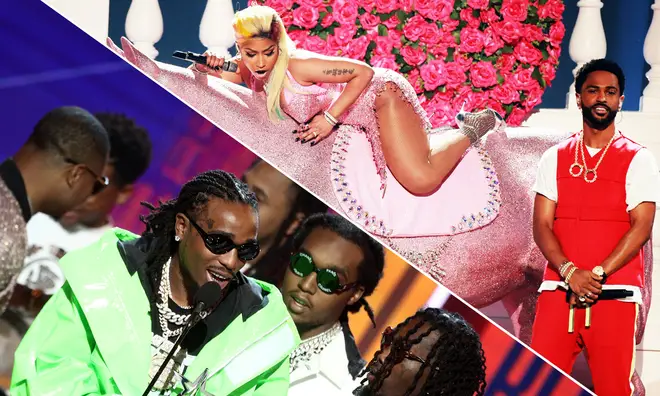 Including performances from Nicki Minaj, Migos, J. Cole and more.
Last night, the Hip-Hop world gathered under one roof in Los Angeles to celebrate a year in the genre at the annual BET Awards.
Hosted by actor and musician Jamie Foxx, the 2018 ceremony saw stars including Nicki Minaj, Migos, J. Cole and Meek Mill take to the stage to perform hits for the crowd.
There were also a number of poignant moments throughout the show, including Fox's tribute to the late rapper XXXTentacion and the moment the audience gave Donald Glover a standing ovation for his song 'This Is America'.
Black Panther star Michael B Jordan and director Ryan Coogler were also in attendance to accept their award for best movie, with Coogler giving an inspirational acceptance speech.
Ready to relive the 2018 BET Awards? Watch the best moments and performances below.
Nicki Minaj performed 'Chun-Li' and 'Rich Sex'

Nicki Minaj With A Sexy "Chun-Li" & "Rich Sex" Performance! | BET Awards 2018

Meek Mill debuted his new song 'Stay Woke' with Miguel.

"Stay Woke"! Meek Mill & Miguel In An Emotional Police Brutality Live Performance | BET Awards 2018

'Black Panther' stars Michael B. Jordan and Ryan Coogler gave a moving acceptance speech.

#WAKANDAFOREVER - 'Black Panther' Takes the Crown for Best Movie | BET Awards 2018

Ella Mai performed her breakout hit 'Boo'd Up'.

Ella Mai Has Us "Boo'd Up" With Her Live Performance! | BET Awards 2018

Migos performed 'Walk It Talk It' and 'Stir Fry'.

Migos Performs "Walk It Talk It" And "Stirfry"! Did They Stir Up The Night? | BET Awards 2018

Jamie Foxx paid an emotional tribute to XXXTentacion.

Jamie Foxx On XXXTentacion & Gives Emotional Speech On Combating Violence | BET Awards 2018

YG, 2 Chainz, Nicki Minaj & Big Sean Performed their new collaboration 'Big Bank'.

YG, 2 Chainz, Nicki Minaj & Big Sean In A Bomb "Big Bank" Performance! | BET Awards 2018

Michael B. Jordan recited Killmonger's iconic line from 'Black Panther' following praise from Jamie Foxx.

Jamie Foxx Praises Black Panther & Michael B Jordan | BET Awards 2018

Miguel performed 'Come Through and Chill' and 'Skywalker'.

Miguel Performs "Come Through and Chill" & "Sky Walker"! | BET Awards 2018

Migos accepted their award for' Best Group' & Offset gives a shout out to Cardi B.

Migos Take the W for Best Group! | BET Awards 2018