Love Island's Ovie Soko Reacts To Your Wildest Thirst Tweets
1 October 2019, 17:38 | Updated: 21 February 2020, 12:54
Here's what happened when Ovie Soko, arguably the stand-out star of Love Island 2019, delved into the depths of Twitter to see how you lot have been shooting your shot with him.
During his time on Love Island 2019, basketball player Ovie Soko stole the hearts of the nation.
His cool, calm and collected demeanour was the perfect antidote to the drama erupting around him in the Spanish villa. Combine this with his good looks and statuesque 6 ft 7 frame, and you've sent Twitter into a complete spin.
Ovie, who soon coupled up with glamour model India Reynolds on the show, couldn't believe his eyes when we showed him some of the thirsty tweets written about him.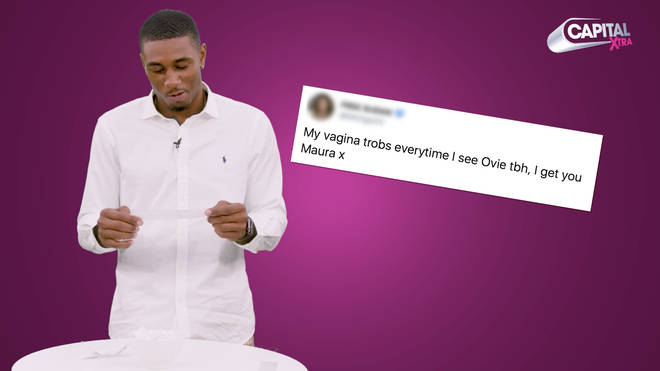 From pretty tame observations of Ovie's voice and to some wild commentary on the effects of his wheelbarrow-wielding skills, these tweets are nothing short of eye-watering.
"Sunday service starts at 9," the 28-year-old athlete reminds viewers as he looks on in horror at the tweets before him. His face says it all.
After leaving the villa, Ovie - and his father Raymond - announced a brand new collaboration with mega fashion brand ASOS for an upcoming new collection.
He also now has an entire day named after him, because 16th September has now been declared 'National Ovie Day' in honour of the star's fashion endeavours.