Usain Bolt Challenges James Cordon In A Hilarious 'Drop The Mic' Rap Battle - WATCH
24 November 2016, 13:24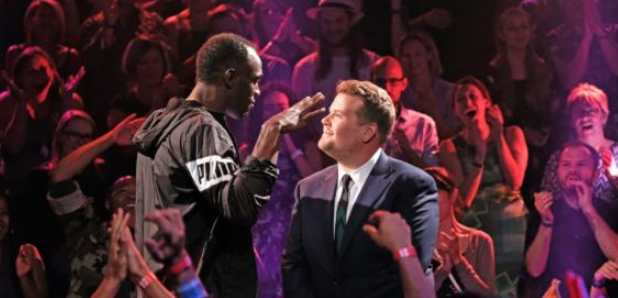 The 9-time gold medal winner put his rapping skills to the test.
Usain Bolt came face-to-face with The Late Late Show host James Corden in the comedian's latest 'Drop The Mic' rap battle.
The regular show segment has previously seen the likes of Kevin Hart and Cara Delevingne take on Corden in the rap battle setting.
And it's safe to say that the famous Olympian also gave him a run for his money.
Watch the full rap battle below:
Cordon chose to take digs at Bolt's sporting job.
"For real, tell me what it's like to have a career/ That people only care about once every four years."
Bolt was quick to respond with this slick diss, however, leaving the crowd roaring.
"You rode the lightening bolt, don't try to backpedal/ My neck is starting to hurt, hold on, hold my gold medals."
The hilarious skit airs alongside Corden's popular 'Carpool Karaoke' series.
It was recently revealed that '24K Magic' star Bruno Mars will be the next celebrity to feature in the carpool segment.