Tristan Thompson Caught In Alleged Sex Tape Scandal As Khloe Kardashian Prepares For Birth
11 April 2018, 10:38 | Updated: 11 April 2018, 10:41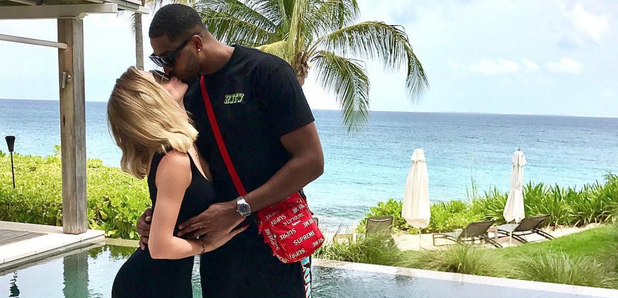 The pro basketball player is currently under fire.
As Khloe Kardashian is preparing to give birth to their first baby, her boyfriend Tristan Thompson has allegedly been caught kissing several women and is now involved in a sex tape scandal.
The pro basketball player has been spotted appearing to get very close to a woman on Saturday night in New York.
In a video published by the Daily Mail, he is seen leaning towards the woman for an extended time, appearing to kiss.
The person who filmed the footage told the newspaper, "I was there and he was on the table right next to us with a group of friends and some girl who he was obviously making out with all night. They were holding each other and it was so obvious."
According to a fellow club goer, Thompson was allegedly in the club for around two hours before leaving at 9.30pm.
However as the video was released, TMZ also published security tape footage of Tristan Thompson getting intimate with two women last October, when Khloe Kardashian was in the early stages of her pregnancy.
In the video, he kisses one women and then brings his head into the breasts of another.
Then more TMZ footage surfaced of Tristan Thompson heading into a hotel room with another woman.
The woman, known only as Stephanie, then allegedly leaked sex tape footage of herself with Tristan Thompson via her Instagram account.
She also now claiming that she is pregnant, according to reports.
However it is not currently known whether he is the father.
Tristan Thompson and Khloe Kardashian are yet to respond to the claims.