Tekashi 6ix9ine Savagely Responds To Ludacris For Dissing Him On 'Wild 'N Out'
24 August 2018, 10:31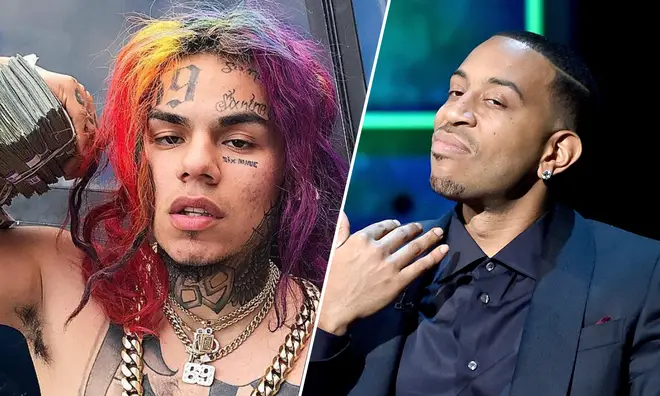 The controversial rapper fired back.
Tekashi 6ix9ine has unleashed fury on Ludacris after he dissed him on MTV's rap comedy series 'Wild 'N Out'.
In a preview of the upcoming episode, which features an actor dressed up as the rainbow-haired rapper, the Atlanta chart-topper fires some tongue-in-cheek shots at the controversial star.
At one point, Ludacris jokingly slams the idea of signing 6ix9ine to his Disturbing Tha Peace record label, instead choosing to hypothetically sign the show's host, Nick Cannon.
"That's an easy one for me. I'd sign Nick Cannon, 'cause Tekashi, I don't know how much longer he gon' be around," Luda says in the clip. Watch it below.
In a fiery response, 6ix9ine posted a foul-mouthed rant before mocking Ludacris by dressing in oversized mid-2000's inspired clothes and imitating his verse in Justin Bieber's 'Baby'.
"Luda, Luda, Luda. You bum a**, p***y a**, Fast & The Furious geek," spat 6ix9ine. "Suck my f***in' d**k Ludacris. Yo, you irrelevant mothaf***a."
He captioned the post, "YOU STOOPID??????? BUMA** N***A WAITING FOR FAST 9 TO BEGIN WASHED UP B***H."
The rapper went on roast some of the promotional material from Ludacris' television show 'Fear Factor', saying, "YOU TV HOST B***H YOU CANT SELL A RECORD RIGHT NOW TO SAVE YA LIFE."
6ix9ine has since deleted the posts. Following the barbs, Ludacris hit back with his own response.
The rapper posted a picture of 6ix9ine with red font stamped over the top reading "Not confirmed" in capital letters, referring to the line-up of Ludacris' annual Labor Day event "Luda Day Weekend 2018".