Rich Homie Quan Apologises For Forgetting The Lyrics To A Classic Biggie Verse Live On TV
13 July 2016, 09:41 | Updated: 13 July 2016, 09:43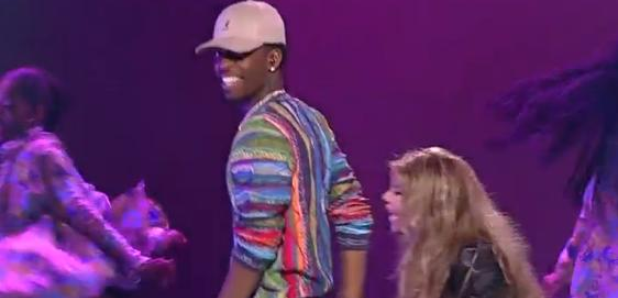 Awkward.
Update:
Rich Homie Quan has released an official apology for completely messing up the lyrics to a classic Biggie Smalls verse on live TV.
The Atlanta rapper was heavily criticised for flopping B.I.G.'s lyrics to Junior MAFIA's 'Get Money', after being invited onto the stage by Lil Kim at VH1's Hip-Hop Honours concert.
However he has now released a lengthy statement about the incident on Instagram.

12/07/16
Rich Homie Quan is currently being slayed on social media for completely forgetting the lyrics to Biggie Small's famous verse on 'Get Money'.
Lil Kim was performing the classic Junior MAFIA track at VH1's Hip-Hip Honours concert, when she decided to bring out the Atlanta rapper to fill in for Biggie.
However things didn't go to plan when he arrived on stage only to mumble a few words, before awkwardly going quiet and trying to ad-lib the lyrics.
Hip Hop legends including Puff Daddy, Fat Joe and more looked on from the crowd.
Watch the awkward moment below:

Twitter users who watched the event unfold on live TV, didn't hold back with their opinions:
Bruh you had the Coogi sweater.... But not the lyrics!??!? #YouHadOneJob

— El Viejo Ebro (@oldmanebro) July 12, 2016
#HipHopHonors pic.twitter.com/H5SHxTRqCl

— REVOLT TV (@RevoltTV) July 12, 2016
#HipHopHonors Somebody teach Rich Homie Quan the lyrics plz! Biggie just turned over in his grave!

— Mr C'mon Son!!!! (@MrEdLover) July 12, 2016
Rich Homie Quan is disrespectful. Forget Biggie's lyrics. Don't get the opiates slapped out ya face fam. #HipHopHonors2016

— Brandon (@JealousCloud) July 12, 2016
Rich Homie Quan can never said he was inspired by Biggie as a rapper & forgot classic lyrics. Bye. He gotta go. #HipHopHonors

— Erica Nichole (@EDotNichole) July 12, 2016