R. Kelly's Female Fans Are Reportedly Trying To Pay Part Of His $1 Million Bond
25 February 2019, 12:43 | Updated: 25 February 2019, 12:45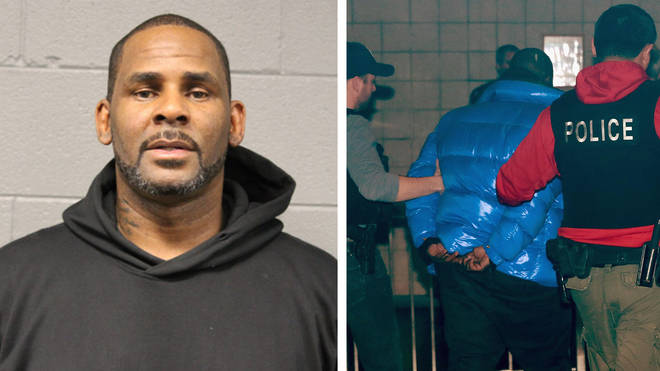 R. Kelly's female fans are coming together to provide R. Kelly with $100,000 USD to pay his bond in new sexual abuse case...
R. Kelly has officially been charged for ten counts of sexual abuse after reportedly turning himself into police in Chicago on the February 22nd 2019. Following the recent news, a report by journalist Will Lee has surfaced.
According to the report, female R. Kelly fans have been calling into a Chicago court clerk's office to gather information on how to post his bond.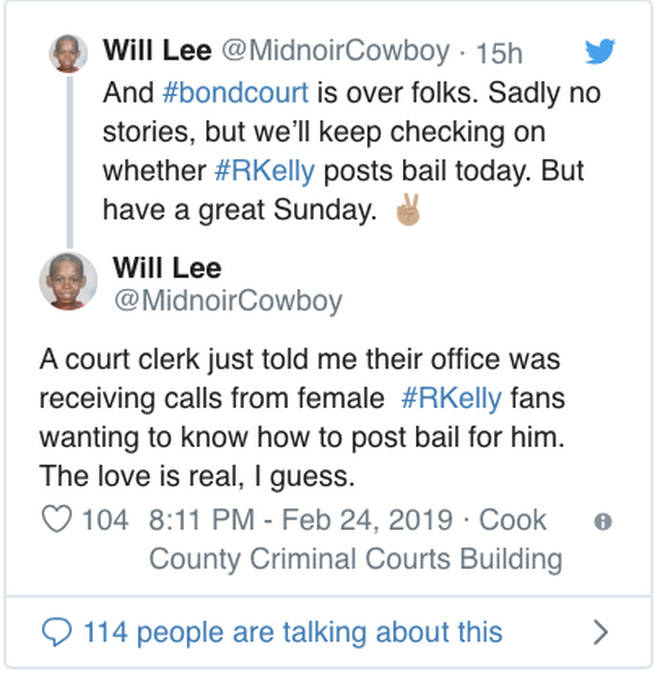 Journalist Will Lee posted a tweet today (24th Feb) stating:
"A court clerk just told me their office was receiving calls from female #RKelly fans wanting to know how to post bail for him," he wrote. "The love is real, I guess."
On Saturday (23rd Feb) at R. Kelly's bail hearing, his bond was reportedly set at $1 million by Judge John Fitzgerald Lyke Jr., who described the allegations made against Kelly as "disturbing."
However, only $100,000 of this $1 million needs to be paid for R. Kelly to be released from custody ahead of his trial.
Me: Nina, you know there are female fans of R Kelly's that's trying to raise the money for his bond

My grandma: 😳😡 them are some sick bitches

😭😭😭😭

— Sally B. Shelly (@Melodic_Heart) February 25, 2019
The "King of R&B" allegedly is unable to pay for the bond due to his financial circumstance. This has taken social media by storm as people assume superstar R. Kelly could "easily" pay $100,000.
R. Kelly's lawyer revealed that his client was not in possession of the funds required to be released due to "mismanagement," "hangers-on" and "bad deals."
R. Kelly's lawyer Steve Greenberd adds that "He's trying to get it together,". He also states "He doesn't have it sitting in the bank" on behalf of R. Kelly.
Female R Kelly fans are trying to help post his bond...you know what that means? That means that the real supporters of his sickness are other women. Not men. Which means in many women's eyes what those girls did was they own fault

— M.A.B.I.A. (@TsunamiSlim) February 25, 2019
R. Kelly has allegedly struggled to pay his child support fees, according to court documents reviewed by CNN.
The CNN report states:
"Kelly owed more than $169,000 in unpaid child support to his ex-wife as of February 6.The court ordered Kelly to make a monthly payment of $20,833 on January 8, 2009, but Kelly failed to show up to that hearing, per court documents. To avoid being held in contempt of court, a judge ordered he pay $161,663 by March 6.
Greenberg told CNN his client "does not have to pay the child support before getting out."
"The state is trying to make him do that, or they were," Greenberg said, "but the judge said no."
Female R' Kelly fans are trying to post his bond, truly truly a sad world we live in

— Scottie PimPP'n (@Prettyl0u) February 25, 2019
R. Kelly's Chicago studio is reportedly facing eviction due to unpaid rent. The singer allegedly owes over $166,000.
Currently, Kelly is facing ten counts of felony criminal sexual abuse and could possibly spend up to 70 years in prison. Fans who want to pay for R. Kelly's bond are receiving backlash on Twitter.