Quavo Had A Nicki Minaj Impersonator At His Album Listening Party
13 October 2018, 12:43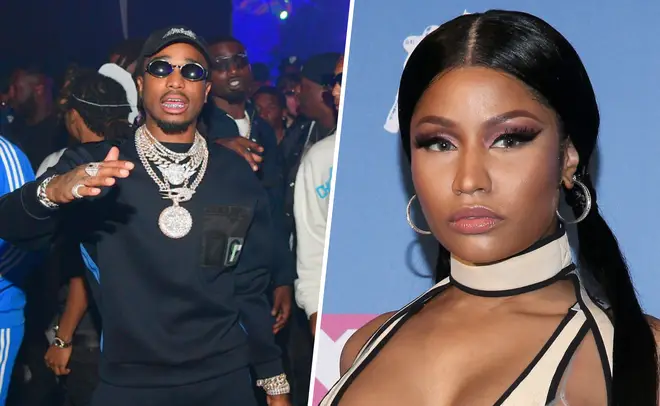 This comes after intense speculation about his new song 'HENCHO DREAMS'.
Quavo celebrated the release of his solo album 'Quavo Huncho' with a listening party. In attendance were Pharrell, Drake, Normani, Cardi B, 21 Savage and others.
While fans suspect the album track 'HUNCHO DREAMS' had references to Nicki Minaj, another apparent Nicki reference from the listening party has fans raising their eyebrows.
According to footage captured at the party, Quavo had an apparent Nicki Minaj impersonator there to act out one of the 'Queen' rapper's infamous Instagram videos.
Quavo has a Nicki Minaj Impersonator At His Listening Party
Nicki's original video has 11+ million views on Instagram and featured her opening a set of Chanel packages. It is unclear if the gifts in the July video were sent by Quavo.
The lookalike appeared to mock Nicki's excited reaction to the handbag, screaming in a similar way and clutching the accessory close to herself.
Prior to 'HUNCHO DREAMS', Nicki Minaj and Quavo appeared to have a cordial, if not flirtatious, relationship. The pair collaborated most recently on their "Boo'd Up" Ella Mai remix.
On 'HUNCHO DREAMS' Quavo name checks a "NIcki" with explicit lyrics.
I see a queen on the tree-tree (What you see?)
She like the ride that boy tree-tree (Yeah, new boy)
Nicki (Nicki), do you love me? (Please)
Why you crying? (Why?)