MoStack Brought His Dog Out On Stage And It's Split Fans' Opinions
20 March 2019, 14:32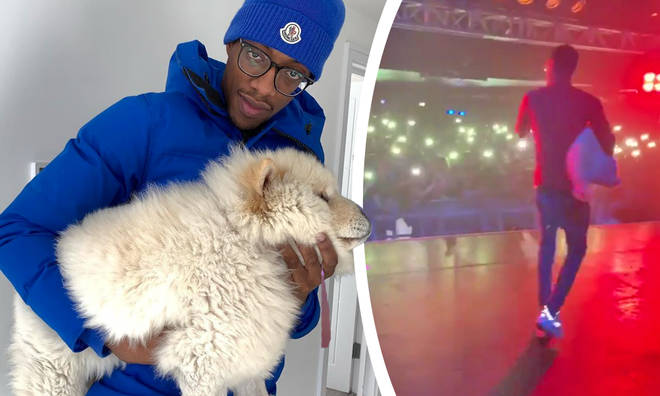 Whilst performing at AJ Tracey's tour in Oxford, MoStack brought his dog onto stage and it's received a mixed reaction on social media.
Rapper MoStack recently introduced his new dog Stackmina to the world and after hanging out with other artists such as Not3s and Mist, the 'What I Wanna' rapper brought his pet out on stage at AJ Tracey's tour in Oxford.
But after the video below spread across social media, it appeared that people were divided on whether MoStack was right to bring his dog into an environment with very loud music and bright lighting.
Many people thought the whole thing was either cute or funny with one Twitter user labelling MoStack a 'legend' for taking Stackmina onto the stage.
Another supportive message read, 'Most Uk rappers bring out Drake, @realmostack brought out a dog ahahahahahhahahahhahah what a g'.
Posting a picture of MoStack on stage with Stackmina amongst other snaps from the show on Instagram, AJ Tracey wrote, 'Oxford: brought out not3s, unknown t, stacko and... @stackmina ?!'.

But there were also those who were less than impressed with Mostack's actions and felt that a dog should never have been brought into an on-stage environment at all.
One Twitter user wrote, 'All about glorifying my puppy yeah...but when it comes to a concert loud as f**k, when there hearing is so sensitive and not actually holding the dog in the right way whilst jumping out to bring off this persona and hype ain't a good look'.
Another commented, 'Mostack bringing a dog out on stage, without proper protection for the dog, is f**king animal cruelty. You rappers need to stop "flexin" for the gram and realise you're doing d**khead s**t. That animal was f**king petrified'.

So what are your thoughts on MoStack bringing his dog out on stage? Is it just a bit of fun or should the dog never even have been near the stage at all?
> Download Our Free App For All The Latest Music News!