Machine Gun Kelly Trolls Eminem AGAIN A Year On Since 'Rap Devil' Release
4 September 2019, 16:06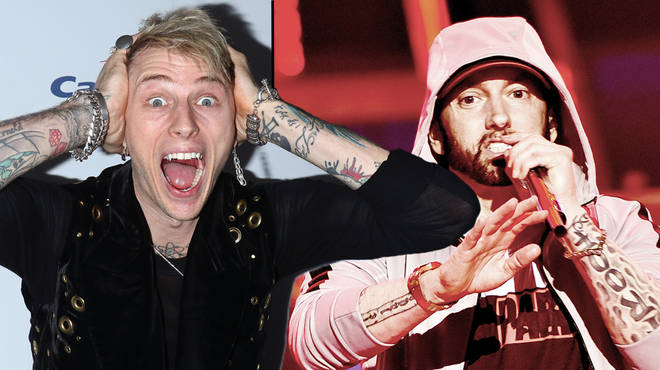 It's all kicking off again between Eminem and MGK!
It's been a year since Machine Gun Kelly released his Eminem diss track 'Rap Devil', but the beef is far from over.
Just last week, Marshall Mathers broke his Twitter silence with a cryptic tweet that read: "People think they want this problem 'til they get it."
Now, living up to his stage name, Machine Gun Kelly then fired shots back at the 'Lose Yourself' rapper once again, trolling the MC on Instagram.
MGK took to the social media platform on Tuesday to share a year book picture of a girl named Savannah Frank, who chose "Rap Devil was better" as her photo's caption.
Machine Gun Kelly captioned the snap: "It's the 'Rap Devil' one year anniversary today...tell it happy birthday 😈"
And if that wasn't enough, MGK encouraged fans to stream the track again on the anniversary, to ensure it remained more successful than Eminem's.
The lyrics to MGK's track 'Rap Devil' speak of Marshall's "hurt ego" and claim Eminem is an older, uglier version of The Dirt actor. Ouch!
Machine Gun Kelly revealed that he wrote the lyrics immediately after hearing Eminem had slagged him off on his Kamikaze album.
Earlier this year, while playing a gig in Brisbane, Slim Shady also called MGK a "c*cksucker", when asked by a fan to perform 'Killshot'.