Machine Gun Kelly Transforms Into Mötley Crüe's Tommy Lee In Amazing Time-Lapse Video
28 March 2019, 12:14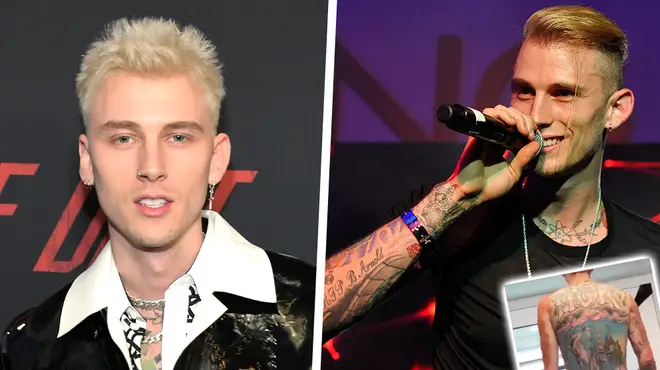 Machine Gun Kelly shares a behind-the-scenes video of his transition into the role of Tommy Lee for Netflix film "The Dirt"
Machine Gun Kelly seems as though he's absolutely astonished to take on the role of Mötley Crüe drummer Tommy Lee for Netflix's recent biopic of the band, The Dirt.
Although the role is big shoes to fill, the rapper hasn't backed down at all and shows how enthusiastic and dedicated he is to the role. The now rapper-actor took to social media to give fans a glimpse of the behind-the-scenes transition looked like.
The 28 year-old rapper showed his fans the daily makeup routine that he underwent to embody Lee in the film. It took a whole team and a long time for MGK to achieve the look of Tommy Lee. It looks intriguing and far from MGK's usual look. Especially seeing Kelly's without his extensive tattoos, which was hidden by makeup, is a weird experience for many.
Indeed, it appears two layers of body spray were required to obscure Kelly's tats before he got crowned with a wig reminiscent of Lee's nostalgic mane. Not to mention the additional time it took to recreate the drummer's body ink.
Just yesterday (Mar 27th), Machine Gun Kelly took to Instagram to show his fans a time lapse video of the process of his daily makeup routine. The rapper captioned the video: "this process was everyday for 4 months straight filming The Dirt, and even longer when we had to add Tommy's tattoos. thanks for the hard work @coreymakeup 🤘🏽 and @littlerabbitlittlerabbit 💆🏻‍♀️ go watch The Dirt on Netflix !! sry @ceven216 😂"
He added that the procedure took "even longer when we had to add Tommy's tattoos."
The Motley Crue movie, was released on the streaming platform last Friday. The film was recently plagued by a legal issue as a crew member got severely injured on the film's production and sued both Netflix and the band.
The Dirt | Official Trailer [HD] | Netflix
The Dirt
Director Jeff Tremaine's The Dirt was released digitally on Netflix on March 22, 2019. The Dirt is a 2019 American biographical drama film about glam metal band Mötley Crüe. The film is an adaptation of the of the 2001 memoir The Dirt: Confessions of the World's Most Notorious Rock Band, which was co-written by the band and Neil Strauss. 
The Dirt film depicts the beginning stages and the growth of Mötley Crüe. The film is set in the 1980's and shows how Mötley Crüe was first formed. The film features a lot of crazy nights and the development of how the worlds most famous heavy metal bands came about. Douglas Booth plays Nikki Sixx, Colson Baker plays Tommy Lee and Iwan Rheon plays Mick Mars. The film also stars Daniel Webber as Vince Neil and Pete Davidson as Tom Zutaut.