Lil Nas X Responds After New Wrangler Collab Makes Country Music Fans Angry Again
21 May 2019, 15:58 | Updated: 21 May 2019, 16:22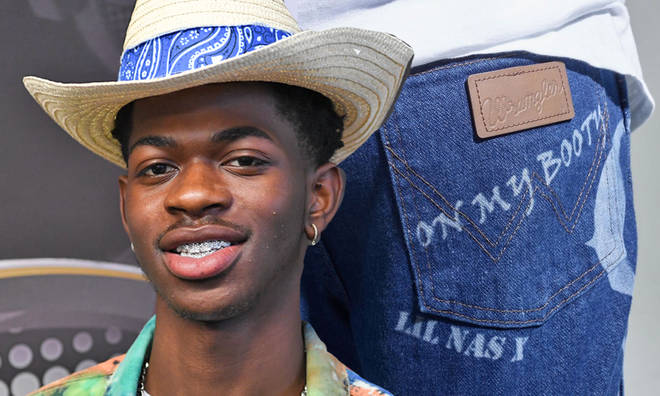 Lil Nas X announcing his huge collaboration with clothing company Wrangler has ended up making some people seriously angry!
With arguably the biggest 2019 of anyone on planet earth, Lil Nas X has absolutely dominated everything this year - but the 'Old Town Road' rapper is now set to take over the fashion industry as well as the charts as he's teamed up for a huge collab with Wrangler.
Wrangler have been making clothes since 1947 and their demin jeans have become a staple around the world, so their collab with chart-topper Lil Nas X is a very big deal, but some people really aren't happy about it.
Having already upset Country music fans across America with his debut single 'Old Town Road' being swiftly dropped from the Country music chart for not being "country enough", Lil Nas X went on to top the main Billboard chart and make a name for himself around the globe.
But Lil Nas X's collab with Wrangler has seen the brand come iunder fire from fans who claim the newly announced deal is 'a disgrace to the brand'.
Writing on Instagram, one user wrote 'this is disapointing..and I agree - a total disgrace to the brand' before Wrangler hit back and defended their decision to work with the 'Old Town Road' star.
Wrangler wrote, 'Since 1947, we've offered jeans for a variety of wearers and wearing occasions. Our western heritage and offering quality product for all for all weares will always be the very heart of our brand'.
Other users commented things like, 'Wrangler has been the jean brand of outdoorsmen, farmers, and workers. I dont think this is a good campaign to run for this jean brand' and 'Really? Supporting an artist that so clearly is mocking country music and the lifestyle it represents? Bad move Wrangler'.
But Lil Nas X took to Twitter to respond to the backlash which Wrangler has faced after announcing the collab and simply wrote, 'y'all really boycotting wrangler?? is it that deep'.
y'all really boycotting wrangler?? is it that deep 🧐

— nope (@LilNasX) May 21, 2019
Wrangler chose to work with Lil Nas X as a lyric in his hit song 'Old Town Road' shouts them out - "My life is a movie / Bull ridin' and boobies / Cowboy hat from Gucci / Wrangler on my booty".
With Lil Nas X reportedly getting ready to drop his debut project in the next few months, his haters better get used to seeing his face everywhere as it doesn't look like he'll be disppearing in his Wranglers anytime soon!
> Download Our Free App For All The Latest Music News!