Kodak Black's Lawyer Slams Police For 'Leaking' Rapper's Viral Custody Photo
13 May 2019, 10:43 | Updated: 13 May 2019, 12:24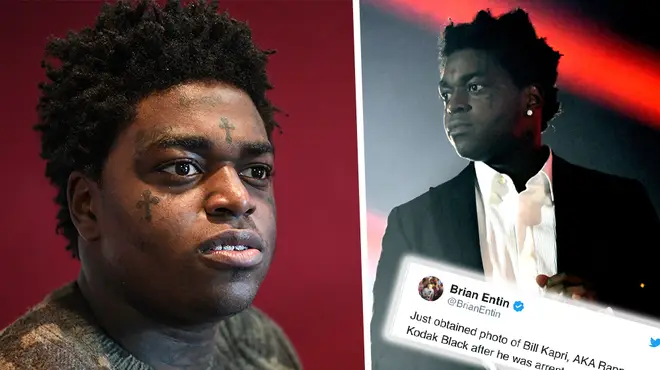 Kodak Black's lawyer has blasted the police force for allegedly leaking a photo of the rapper in custody, following his arrest before he was set to perform at Rolling Loud Miami...
Kodak Black's criminal defence attorney, Bradford Cohen has spoken out since the rappers arrest when he was on his way to perform at Rolling Loud Miami.
Cohen believes the police force is responsible for the release of Kodak's jail photos going viral. The Floridian rapper can be seen in custody with a huge smile in a blue Gucci suit.
On Sunday (May 12th) Kodak's lawyer, Cohen, spoke to the South Florida Sun-Sentinel and revealed why he believes the police are responsible for the photo being leaked.
He told the news outlet: "I think the actions of the [police] in taking a photo of him in the police station in handcuffs and selling it or giving it to WSVN is a disgusting display of unprofessionalism".
Just obtained photo of Bill Kapri, AKA Rapper Kodak Black after he was arrested tonight. Official statement from Marshals: after an extensive investigation conducted by the US Marshals, ATF, and Miami Dade PD North Side Gang Unit, Kapri, was arrested as he arrived... pic.twitter.com/IHVzAoNStI

— Brian Entin (@BrianEntin) May 12, 2019
at the Hard Rock Stadium to perform. Kapri will be charged with both state and federal firearms violations and is being booked into the Federal Detention Center in Miami.

— Brian Entin (@BrianEntin) May 12, 2019
Reporter Brian Entin from WSVN, uploaded the photo of Kodak in custody and he was the first to confirm Kodak's arrest.
Although it is unknown who took the photo, the picture does reveal Kodak handcuffed as he smiles for the camera following an arrest on firearms charges. The arrest came when the federal Bureau of Alcohol, Tobacco, Firearms and Explosives began an operation.
Rolling Loud has confirmed that Kodak was on his way to the festival when he was arrested. Festival organizers went on to add that they had no knowledge or connection to the South Florida rapper's arrest.