Kodak Black Slammed After Threatening To Hit Pregnant Rapper Yung Miami "In The Stomach"
30 July 2019, 14:38 | Updated: 30 July 2019, 15:55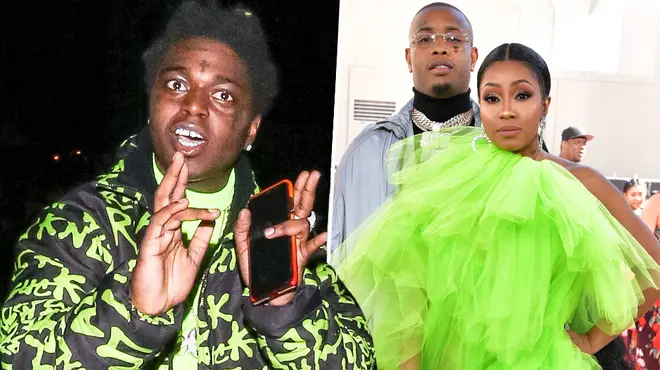 Floridian rapper Kodak Black has been slammed by Yung Miami's boyfriend, after the rapper threatened to harm the City Girls baby in his new freestyle.
Kodak Black has recently been under fire for his freestyle that the Florida rapper released behind bars. In the short freestyle, the "Zeze" rapper disses City Girls rapper Yung Miami.
In the clip of his freestyle, Kodak raps "I bought Yung Miami a ring, she wanted 808 baby. When I see her I'ma hit that b**ch in her stomach". Yung Miami's boyfriend, who she is currently pregnant with, has responded to Kodak's freestyle.
Producer Southside, who is Yung Miami's boyfriend/baby father, has responded to Kodak Black's freestyle.
The diss to Southside's future baby mother and unborn child got the beat maker riled up as he took to Instagram to address Kodak.
In an Instagram video, Southside responded saying "Hey, somebody tell Kodak suck a d**k. How 'bout that? Get out of jail first, p**sy," he declared.
Kodak's fans have responded to Southside's video, aiming to ban the rapper from Broward county.
Southside responded to Kodak's fans in an Instagram video saying "I have a multi-million dollar home in Broward. [If ] y'all don't shut that p**sy ass Broward s**t up, n***a," he began.
"I live in Broward. Broward Police are not playing. Y'all cap as hell," he said on Instagram.
Who do you think is in the right, Kodak or Southside ?