Kodak Black STORMS OUT Of Interview After Rape Allegations Are Brought Up
13 December 2018, 10:58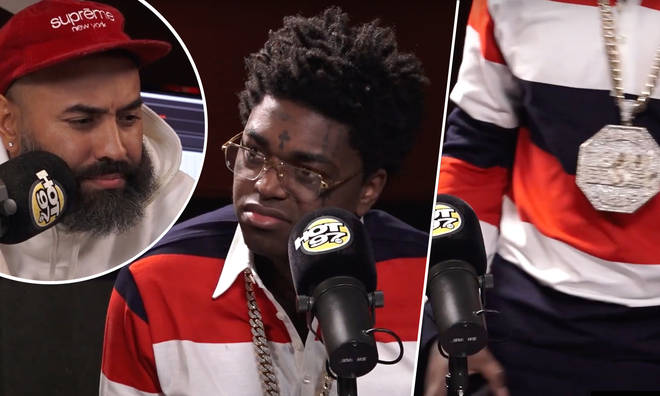 The 'ZEZE' rapper was left unimpressed when DJ Ebro Darden brought up Black's upcoming sexual assault trial and rape allegations during his recent interview on Hot 97 this week.
Kodak Black walked out of his interview on Hot 97 this week upon the mention of his rape allegations and upcoming sexual assault trial.
The 'ZEZE' rapper was speaking to hosts Ebro Darden and Peter Rosenberg on Wednesday (12th Dec.) to talk about his new album, 'Dying To Live', before things took a very awkward turn.
Darden brought up the 21-year-old's pending sexual assault case, saying, "You know, looking at all your cases and everything you've been through, and I know the recent one right now is very sensitive."
"Respect to everybody involved in that case, we can't get into details today. We take sexual assault here serious. We can't get into details, but we hope to have you back, so that we can have a deeper conversation about that."
Ebro then points out that Kodak looks uncomfortable, to which Kodak replies, "I feel like sometimes, when n***as like me are going through sh*t, y'all be entertained.
"Like, change the subject. Talk about something else." When Ebro suggests that there may be nothing left to discuss, Black takes the opportunity to get up from his seat and leave the interview.
After Kodak leaves, Ebro can be heard uttering, "You won't tell me what to talk about on my show." The incident starts from around the 15 minute mark.
Ebro took to Twitter after the interview aired and clarify his reasoning behind asking Kodak about the sexual assault case.
"I was tryna have a balanced convo with Kodak Black & not ignore the serious allegations against him but also not ask specifics to make his situation worse... and he wanna get an attitude with me?? Nah...." he wrote.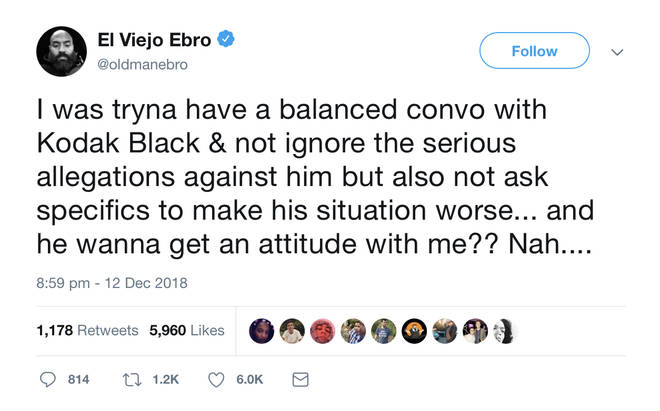 Kodak was arrested for allegedly sexually assaulting a woman in a South Carolina hotel back in 2016. He served time in jail before being released in June 2017, with his trial scheduled to begin in April 2019.