Kim Kardashian Apologises After Fans Call Her Halloween Costume "Racist"
4 November 2017, 09:46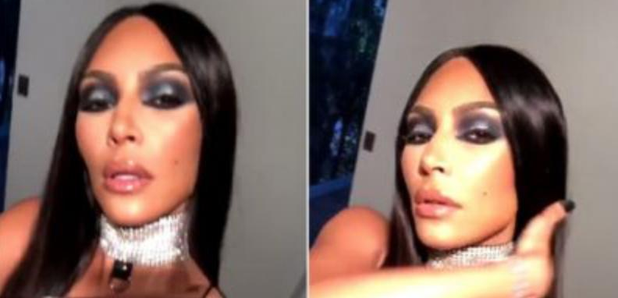 Some fans are seriously unimpressed by her throwback outfit...
Update
Kim Kardashian has responded after her Aaliyah-themed Halloween outfit was branded as "racist" by some fans on social media.
The 37-year-old reality star took to her website to issue an official apology to everyone she offended.
"Aaliyah was such an amazing singer and she will forever be a music legend," Kim wrote to her fans.
"I saw online that some people thought my costume was in poor taste and I am truly sorry if that offended anyone. When I was creating the costume, I wasn't dressing up as a race or culture but rather as a woman whom I will always admire."
She continued: "I play every kind of genre of music in my home and I like for my kids to be exposed to many different artists. For me, it's always about love and respect. I loved that Kourtney was Michael Jackson for one of her costumes, and that my son was Axl Rose. We don't see color in my home. We were paying homage to people and artists we love and respect— it's that simple!"
30th October
Kim Kardashian has been branded as "racist" by some fans over her Aaliyah-themed Halloween costume.
The 'Keeping Up With The Kardashians' star, who had three different outfits this year, angered people with her decision to dress up as the late singer from her iconic 'Try Again' video.
Baby Girl Aaliyah pic.twitter.com/5GUHkNJgNi

— Kim Kardashian West (@KimKardashian) 29 October 2017
"Baby girl Aaliyah," she captioned the video.
Wearing a silver chained bra and choker, with leather trousers and a brunette wig, Kim attempted to channel Aaliyah.
However some people have taken to social media to label Kim Kardashian's Halloween outfit as "racist".
Because when anyone else dresses as a diff culture than their own it's considered racist and cultural appropriation.

— Ashley Donohue (@Ash_Baaash) October 29, 2017
Legend or not Aaliyah is a black woman and you're not. It's offensive and you shouldn't push this limit, but ok...

— Blogger Cassie (@LAGrlCrookdSmle) 29 October 2017
then you the wrong shade of black

— PETTYWISE (@viewsbyneka) 29 October 2017
I don't want Kim Kardashian dressing up as Aaliyah just like I don't want Beyoncé dressing up as Sacajawea. It's not deep, y'all shallow

— Jatella; (@jatella) 29 October 2017
#KimKardashian is a decent #Aaliyah. HOWEVER, I don't agree w/the culture appropriation. You just take what you want & don't help the cause

— gardensflower36 (@gardensflower36) 29 October 2017
It's offensive because babygirl is DEAD & you can't pay hommage when you're an Armenian just using her look as a costume. That's the issue.

— Shaurenza Jiménez (@Shaurenza) 29 October 2017
However others have taken to Kim's defence, claiming the outfit wasn't racist at all.
she didn't do black face tho y'all just like being fake mad over everything

— s (@godIys) 29 October 2017
im black and i see no problem with this at all

— s (@godIys) 29 October 2017
I HATE when y'all make me defend Kim Kardashian but her Aaliyah costume was nothing even adjacent to cultural appropriation. Please stop.

— Icarus. (@xMurderCWrote) 29 October 2017
Wait black people can dress up like moana,Tinkerbell and other white characters but Kim can't?y'all need prayers

— selma_malik (@SalsinaA) 29 October 2017
Aaliyah infamously died in a freak plane accident in the Bahamas in 2001.
This year Kim Kardashian also dressed up as Cher and Madonna.
MJ & Madge -#ICONS pic.twitter.com/sbz5Fk9eI6

— Kim Kardashian West (@KimKardashian) 29 October 2017
Sonny & Cher #HalloWKKWeen pic.twitter.com/nXStzZnrTs

— Kim Kardashian West (@KimKardashian) 28 October 2017