Kim Kardashian Mocked By Fans Over Her Latest Selfie For This Unlikely Reason
10 January 2018, 11:42 | Updated: 10 January 2018, 11:46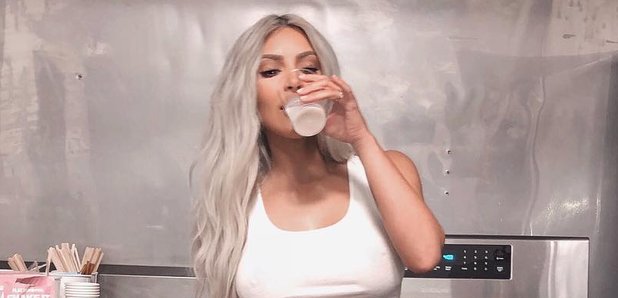 The star stripped off to promote a diet shake.
Kim Kardashian took to Instagram last night to promote a diet shake programme she claims to be using in an effort to "get her tummy back to flat".
The reality TV star stripped off to her underwear for the racy snap, but it wasn't her toned body that fans couldn't take their eyes off.
Eyebrows were raised at the "grimy" stainless steel kitchen behind Kim, with people questioning whether or not she was standing in a prison kitchen or the back of a takeaway shop.
The business woman's hygiene was also brought into question as fans pointed out that she was standing barefoot on the industrial plastic mats beneath her.
Comedian The Fat Jewish asked: "Are you in a prison kitchen?"
"Out the back of the fish and chip shop no?" questioned one user.
"I couldn't finish reading what @kimkardashian was selling over the bleakness level of this kitchen." added another.
Someone commented: "That kitchen looks grimie! How can you have your feet on the floor? (sic)"
"So unhygienic you're wearing that in a kitchen" said another fan.
The mother-of-two has also come under fire from health-concious users on social media who argue that Kim is sending the wrong message to her followers by promoting meal replacements.
While countless fans supported the star's actions and praised her appearance, some questioned whether she should be advertising the diet product.
"Just so you can make a quick buck! We know you don't use these and work hard in the gym for your flat stomach, so please promote that instead." wrote one user.
Extremely disappointed to see @KimKardashian promoting meal replacement shakes to lose weight. Poor use of her platform, and very toxic for her 100M+ impressionable followers. SMH pic.twitter.com/GY1v0LTV1b

— •Irresponsibly Gay• (@mdavidson97) 10 January 2018
Kim is yet to comment on the response to the image.
Meanwhile, the starlet is currently gearing up to welcome her third child with husband Kanye West via a surrogate.