Adorable Kid Sings 'Thinking Out Loud' Without Knowing Ed Sheeran Is Stood Right Behind Him – WATCH
15 February 2017, 10:07 | Updated: 15 February 2017, 10:15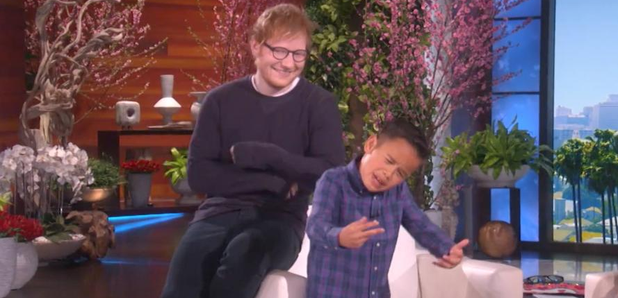 What a moment.
8-year-old viral singer Kai Langer got one of the biggest surprises of his life, when Ed Sheeran popped up behind him on the Ellen Show.
Langer was in the middle of singing an over the top rendition of Ed Sheeran's hit single 'Thinking Out Loud', when Ed crept on during his performance.
Watch the magical moment below:
Kai was on the show to present Ellen with a Valentine's Day card and announce the TV presenter as his new girlfriend.
Meanwhile, during his appearance, Ed Sheeran revealed that his life is a lot less stressful since throwing away with mobile phone.
"I don't wake up in the morning and have to answer 50 messages of people asking for stuff," he said.
"I just wake up and have a cup of tea."
Meanwhile, Ed Sheeran is preparing to tour the UK with his new album '÷'.
The British singer will perform at venues across the UK between April and May, performing two nights at London's O2 Arena.
Speaking exclusively to Capital XTRA, Ed revealed his decision to avoid performing at London's Wembley Arena for a second time.