Ja Rule Defends Himself On Twitter After Fyre Festival Documentary Scandal
21 January 2019, 12:04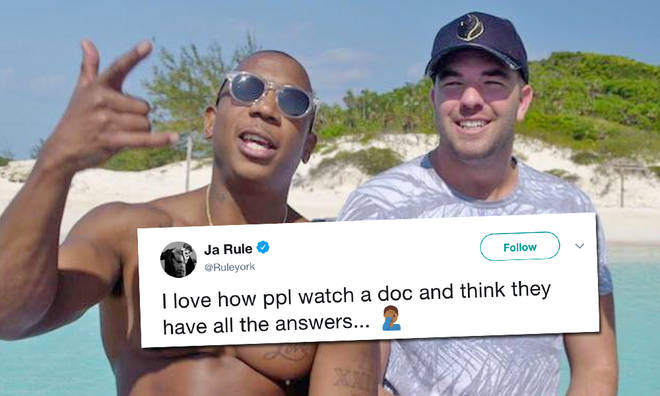 Ja Rule and Billy McFarland's Fyre Festival went from dream event to complete nightmare and both Netflix and Hulu released documentaries on the shock events.
After the shocking events at Fyre Festival were shared with the world via a couple of documentaries by both Hulu and Netflix recently, people have been asking how all this happened and how Ja Rule seems to have gotten away free from any blame.
Well after watching the documentaries himself, the 'Mesmerize' rapper has taken to Twitter to defend himself and claim that people don't know everything just from watching the documentaries.

Writing to his followers, Ja Rule said, 'I love how ppl watch a doc and think they have all the answers...' before being hit by plenty of responses mocking his involvment in the now infamous event.
He went on to say, 'I had an amazing vision to create a festival like NO OTHER!!! I would NEVER SCAM or FRAUD anyone what sense does that make???'.
In the documentaries it's revealed that a number of local workers weren't paid a penny and most of the anger on Twitter seems to be directed at the fact that those people who put in work to try and make Fyre happen haven't seen a single penny.

Fyre Festival promised an experience like not other and used models such as Bella Hadid and Hailey Baldwin in their marketing campaign to entice potential festival goers to buy expensive ticket packages, but ended up not being able to offer anything that they promised.
Since the festival's very public collapse, Billy McFarland was sent to prison for 6 years, whilst Ja Rule has escaped any liability for the failed festival and has actually gone on to set up another company called Iconn.
Claiming he didn't know what was going on , Ja Rule went on to tweet, 'Y'all want it to be me sooo bad it's crazy... kinda sad!!! the crazy shit is I'm watching the docs in awe myself...'.

He went on to claim the he was one of the people who was hustled too, adding, 'I too was hustled, scammed, bamboozled, hood winked, lead astray!!!'.
> Download Our Free App For All The Latest Music News!