Footasylum: Locked In contestants social media accounts
11 November 2020, 17:06 | Updated: 13 November 2020, 16:04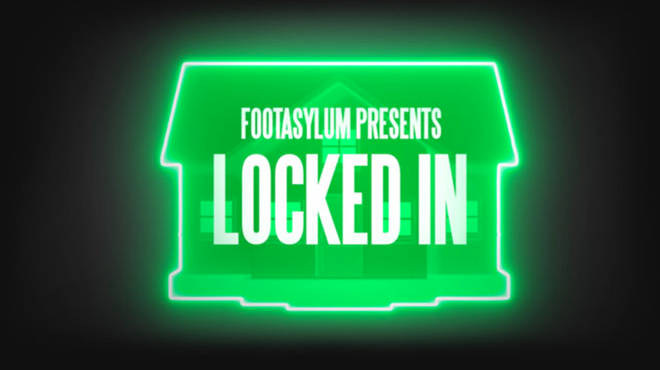 Find out the ages, occupations and social media accounts of Footasylum's 'Locked In' contestants
What is it?
Footasylum's 'Locked In' is a new show where 10 YouTube stars have been out into a house for two weeks.
The stars will have no access to their phones, social media or outside interaction. They partake in challenges in order to win points.
The line-up will feature popular socialites such as Bash the Entertainer and the YouTube sensation, JMX. As well as, Bambino Becky and Very Vee Brown.

What is the prize?
When the series comes to an end after the two weeks, the YouTuber with the most points will win £10,000 for a charity of their choice.

When is the launch?
The show will be launching on the 4th November 2020 with episodes dropping everyday at 7PM on Footasylum's YouTube.
See the list of contestants and their social media accounts below.
Mikes Comedy – Comedian

Mikes Comedy rose to fame off the back of his Snapchat series 'PAMPANA' – where he would solve his users dilemmas in a humours style.

He has gone on to thrive on Instagram by making comedy skits, mainly playing 'Uncle Kunle' which is an African uncle who uses supernatural forces to achieve what he wants.

Snapchat - @Mikescomedyy

Instagram -@Mikescomedy

Twitter - @MikesComedyy

YouTube - Mikes Comedy

Eloise Mitchell – Beauty and Fashion YouTuber

Eloise Mitchell is an 18 year-old beauty and fashion youtuber.

Instagram - @eloisemitchell_1

Twitter - @WeazMitchell_

YouTube - Eloise Mitchell

Bash The Entertainer – Entertainer

Bash The Entertainer is an internet star who makes entertainment videos for his fans on YouTube, TikTok and Instagram. 

Instagram - @bashtheentertainer

TikTok - BashTheEntertainer

Twitter - @BashTheEnt

YouTube - Bash The Entertainer

JMX - YouTuber, Boxer and Mentor

22 year-old JMX – real name Joel Morris is a FIFA gamer on YouTube who primarily posts Ultimate Team content.. He has more than 2.5 million subscribers. 

Instagram - @jmx

Twitter - @JMXFifa

YouTube - JMX

Eleanor Neale – YouTuber

21-year-old Eleanor Neale's YouTube videos see her look into murder mysteries, from celebrities to famous cases.

Instagram - @eleanorneale

Twitter - @ELEANORXNEALE

YouTube - Eleanor Neale

Bambino Becky

Bambino Becky, 22, joined YouTube in 2013 which has now had over 18 million views on her channel.

Instagram - @bambinobecky

Twitter – @bambinobecky

YouTube - Bambino Becky

SV2 – Football player and Football content creator

When SV2 isn't playing for his local team, he's making YouTube videos with upcoming little footballers.

Instagram – @emansv2

Twitter - @OfficialSV2

Twitch - https://www.twitch.tv/officialsv2

YouTube - SV2

Jordon Wilson - YouTuber

Jordon Wilson, 23, does outrageous pranks and extreme challenges on his YouTube channel.

Instagram - @jordwx

YouTube - Jordon Wilson

Nalmak - YouTuber

Nalmak's YouTube channel is ull of pranks with his family. He achieved 3 million views on his most watched video from 2019.

Instagram - @nadimalmk

YouTube - Nalmak

Very Vee Brown - Entertainer

Very Vee Brown has had appearances on Gasworks, GRM daily and on Footasylum's Truth Hurts series.

Instagram- @veryveebrown

Snapchat - VEEVEEBROWNIYAH

TikTok - VeryVeeBrown_