Diddy Posts A Confession After Being Trolled For Not Marrying Late Partner Kim Porter
4 March 2019, 13:02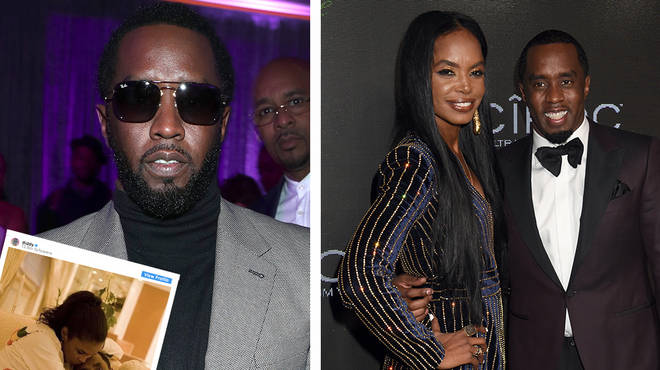 A fan has trolled P Diddy for not marrying late partner Kim Porter and he responds with a confession...
P. Diddy's late partner and mother of three of his kids, Kim Porter, tragically passed away on 15th November 2018. The music mogul is finding it hard to come to terms with her passing and is still mourning her loss. While reflecting on his loss, Diddy has found himself regretting what could have been.
The rapper posted another sweet picture of the two of them cuddling on his Instagram yesterday (Mar. 3), along with a broken heart emoji as his caption. However, the rapper opens up more and makes a shocking confession that took social media by storm from what he wrote after responding to a "trolling" fan.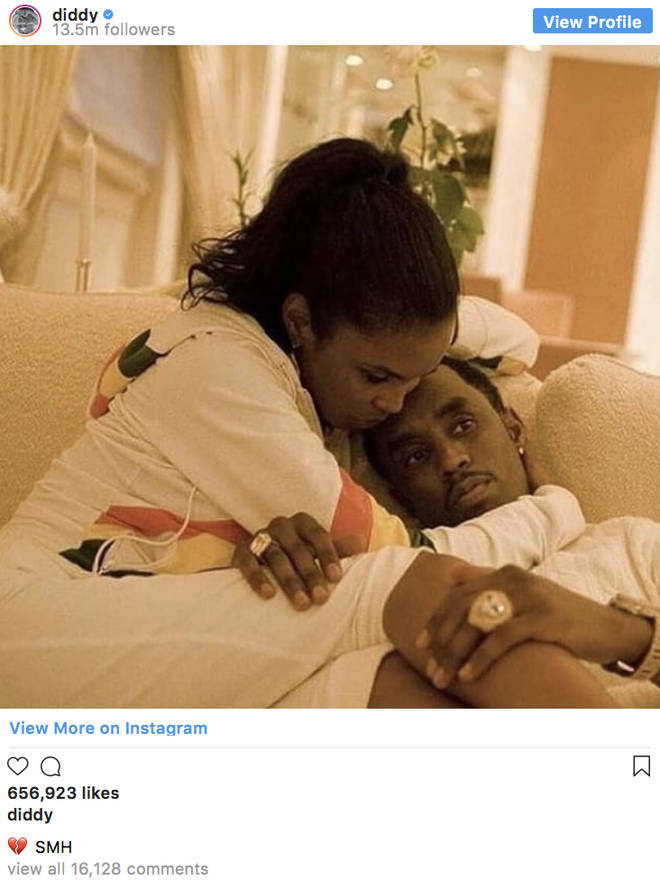 A heartbroken Diddy took to Instagram to profess his love for the late mother of his children, Kim Porter, who died last fall and the Internet was not very kind to him.
The music mogul shared a photo where he is being embraced by Kim Porter. Diddy simply wrote: "💔SMH" underneath the photo as he mourns Kim Porter.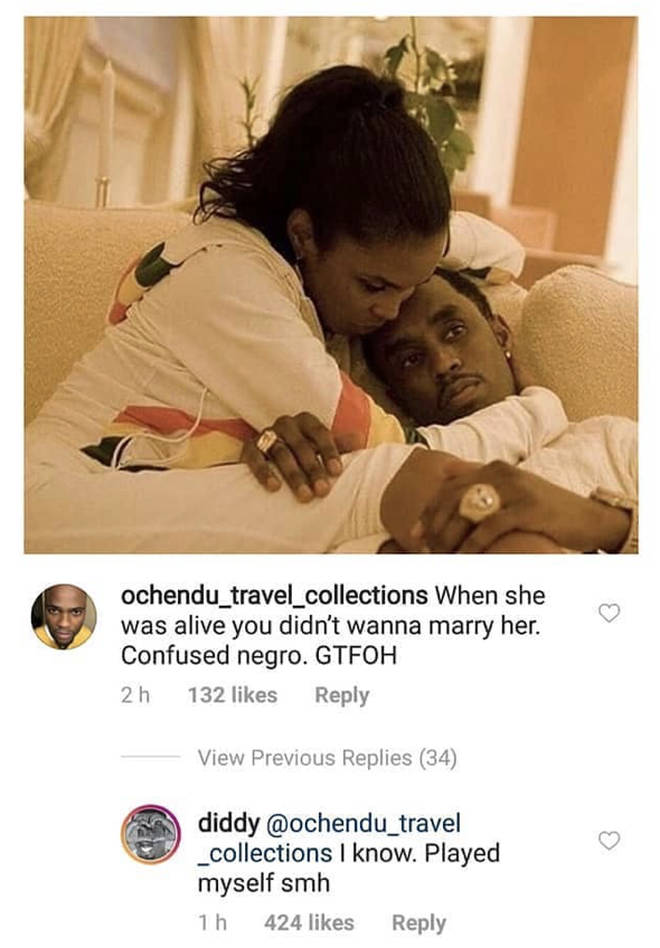 A "trolling" fan commented below the photo and harshly came at Diddy for not marrying Kim after two decades of "on-and-off romance". Although the pair were "on-and-off", the relationship spawned life to three children Christian Combs, 20, and twins D'Lila Star and Jessie James, 12. Both parents still had mutual love for each other due to their history together and the fact they have three beautiful children together.
The "trolling" fan shared: "When she was alive you didn't wanna marry her." Diddy, who seems very down at the moment, replied by: "I know. Played myself smh."
After Diddy's response, a follower of his backed the rapper turned media mogul up and believes he should be left alone as he mourns the mother of his children.
The supporter shared: "Awwww wow!!! Diddy kept that too real! That's how you know he loved her. Awwww diddy!! 📷I wish we could all take a lesson …. when we have the person in our lives we should move the mountains for them. But when we lose them, then we wish we could've and would've. @diddy he's teaching us something, and we should learn from this picture. Don't let your love disappear… cherish the moments and live in them as well.:. Well, that's what I got out of it lol … 📷📷📷📷Real man @diddy answered an insensitive internet troll .. we rock wit ya Diddy we understand, Nuff said. One more thing, he shouldn't have explained or respond to no other human being. The internet is full of demonic trolls and serpents."
Another fan backed P Diddy stating: "Love and prayers sent to you diddy !!! Take it one day at a time. Make sure during all your spread love talks, you don't forget to love yourself and heal," in remembrance of Kim.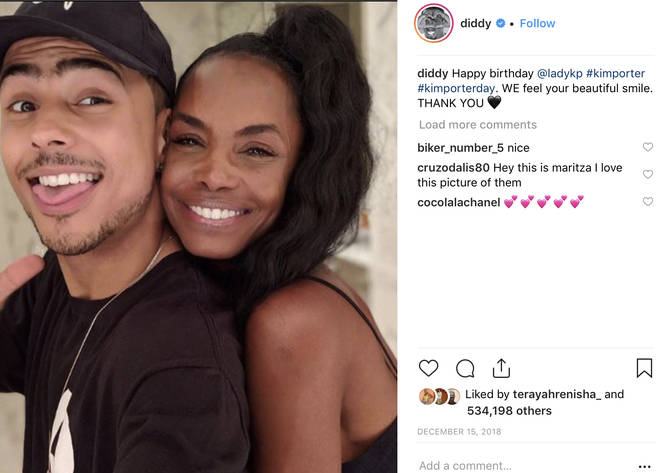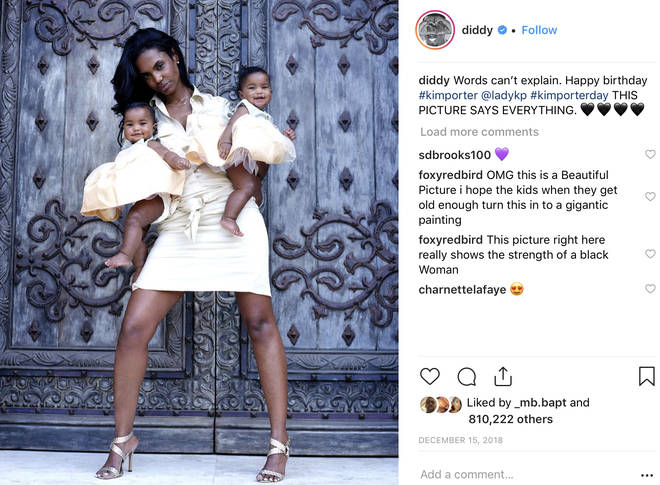 Another supporter chimed in on the post and wrote a heartfelt message to P Diddy stating:
"Love and prayers sent to you diddy !!! Take it one day at a time. Make sure during all your spread love talks, you don't forget to love yourself and heal," wrote the Instagram user, in remembrance of Kim.
On February 23rd, P Diddy posted a video of his 12-year-old daughters Jessie and D'Lila onstage with a friend, where they covered the title song from the 2006 film adaptation of hit Broadway musical Dreamgirls.
Diddy reflected on them both being like their mother Kim Porter stating:
"MY BABIES KILLED IT !!! 🖤🖤🖤 dream girls. So proud JUST LIKE THEIR MOMMY @ladykp"
Diana Ross shared the clip in a tweet stating: "Loving these beautiful girls @The_Combs_Twins looking like the Supremes @Diddy."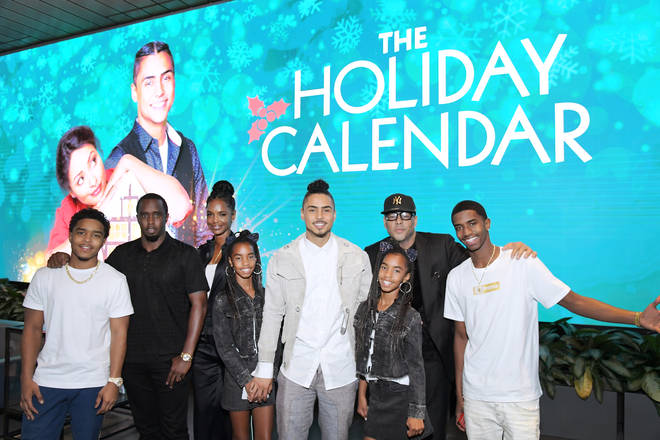 P Diddy and Kim Porter's kids will continue to carry her legacy and live in spirit for her.