Blac Chyna & Playboi Carti Are Rumoured To Be Dating
6 November 2017, 14:01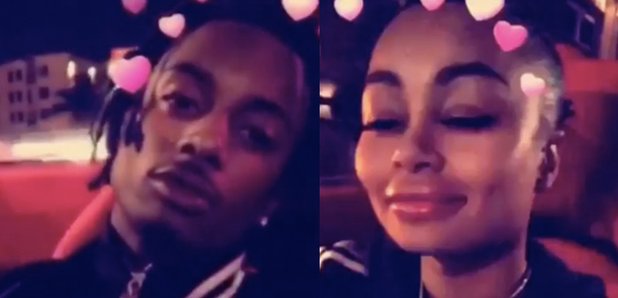 New couple alert.
Blac Chyna and Playboi Carti are the latest celebrity couple rumoured to be dating.
The pair initially sparked speculation of a potential relationship after posting a Snapchat video together in the early hours of Saturday morning.
Chyna - who shares a child, Dream, with her previous partner, Rob Kardashian - can be see driving with Carti in the passenger seat as love hearts circle around their heads.
The pair were also spotted attending ComplexCon together over the weekend, following each other closely.
Chyna split from Kardashian earlier this year, which resulted in the father-of-one leaking explicit images of the model online as an act of revenge.
The pair's tumultuous relationship, which remains plagued by abuse allegations, is somewhat mirrored in Playboi's past.
The rapper was arrested earlier this year after he was accused of domestic abuse by his now ex-girlfriend.
Meanwhile, Chy has been seen flaunting Carti's 'Playboy' necklace around her neck on her Snapchat account.
The couple are yet to publicly respond to the reports.
However fans have already began posting their opinions about their budding relationship.
Damn Blac Chyna just running through these rappers like lean

— Still Alive (@MsJanebaby808) 4 November 2017
blac chyna near 30 years old with 2 kids dating playboi carti who like 20 lmfaooo

— STUNNA (@LILAFRIMANE) 4 November 2017
Blac chyna got playboy carti all on her snap I'm not having this I'm calling the police

— princess (@JadaFBabyy_) 4 November 2017
Playboi Carti & Blac Chyna look like the Great Value version of Amber Rose & 21 Savage

— (@ayeitslissaj) 4 November 2017
No flex Blac Chyna prolly the best finesser to ever live.

— MY NAMES NOT RICK! (@VirgoGod_) 4 November 2017
Blac chyna really posted up on snap with playboi carti pic.twitter.com/0N3oInVs0n

— kung fu Vicky (@_VickeyC) 4 November 2017