Barack Obama Is Living His Best Life On Richard Branson's Private Island - WATCH
8 February 2017, 10:12 | Updated: 8 February 2017, 10:17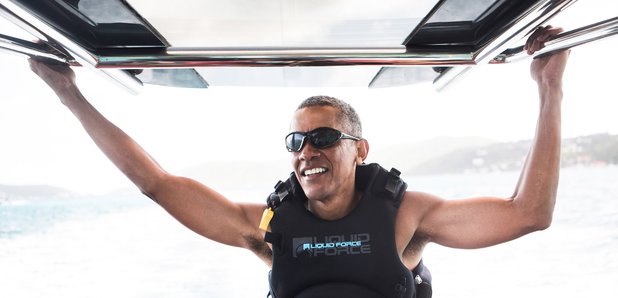 Obama went kite-surfing with the British billionaire.
Former President Barack Obama has been spotted learning how to kitesurf on Richard Branson's private island.
Obama, who has stayed away from the spotlight since Donald Trump was elected as US President, looked overjoyed as he hit the waters with Branson on Necker Island in the British Virgin Islands.
Watch below:
Richard Branson released a video and a number of pictures of the pair together on his blog, alongside the message:
"It was a huge honor to be able to invite President Barack and Michelle Obama down to the British Virgin Islands for a complete break after Barack finished his second term as President and the family left the White House.
"One of the first stories Barack told me when he and Michelle arrived on Moskito Island was how, just before he became President, he had been surfing on a dangerous break in Hawaii."
Challenged @barackobama to a kitesurf vs foilboard learning contest – here's what happened https://t.co/5hwjOvy2TK pic.twitter.com/wEGSjL2TAr

— Richard Branson (@richardbranson) February 7, 2017
"When he came in from an exhilarating session, the new head of his security team turned to him and said: 'This will be the last time you surf for eight years.' For the next eight years he didn't have the chance to surf, enjoy watersports or do many of the things he loved."
Loved offering @barackobama the chance to learn to kitesurf – here's how he got on https://t.co/5hwjOvy2TK pic.twitter.com/jk3OEtDELq

— Richard Branson (@richardbranson) February 7, 2017
Interestingly, Branson hinted that the pair were being extra competitive on the waters.
"Barack started learning to kitesurf on the beach on Necker for two days solid, picking up the basics and flying a kite as if going back to being a child again."
Branson added: "We were neck and neck until the last run on the last day, when I got up on the foilboard and screamed along for over 50 meters, three feet above the water. I was feeling very pleased with myself, only to look over and see Barack go 100 meters on his kiteboard! I had to doff my cap to him and celebrate his victory."
Best President ever?