Who is Asian Doll? Was she dating rapper King Von before his death?
21 January 2021, 10:35 | Updated: 24 February 2021, 13:28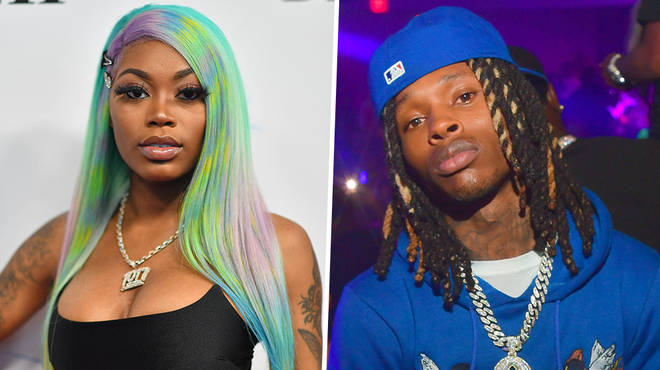 The star is most known for her singles "First Off" and "Rock Out".
Asian Doll's name has been ringing in mainstream news recently. After dropping her 2020 project Doll SZN, the Dallas star has been increasingly gaining traction.
The star quickly became couple goals with rapper King Von, once they shared photos of themselves on social media.
Sadly, King Von's life was cut short after he was shot dead in Atlanta on November 6, 2020. Adian Doll has been vocal about how this has impacted her on social media, letting her fans into her personal life.
However, many people still want to know more about the upcoming artist. Find out more information about Asian Doll below.
Who is Asian Doll?

Asian Doll, real name Misharron Jermeisha Allen, but also known as Asian Da Brat is an American rapper.

The Dallas native signed to Gucci Mane's 1017 Eskimo Records, and is the first female artist to be signed to the label since it was founded in 2010.

Asian Doll a.k.a Asian Da Brat.

Picture: Instagram/@asiandabrat

The star's music career began with the release of Da Rise of Barbie Doll Gang Empire back in 2015.

Since then, Asian Doll has released and she has since released Drippin in Glo (2016), OuttaSpace (2017) and Doll SZN (2018) – which were all successful.

What is Asian Doll's age?

Asian Doll is 23 years of age. Asian Doll was born on December 7, 1996. She was born in Dallas, Texas.

Her birth sign is a Sagittarius.

What is Asian Doll's Instagram?

Asian Doll's Instagram handle is @asiandabrat. Asian Doll has over 2.6 million followers on Instagram.

See a post by Asian Doll below.

Was Asian Doll in a car accident?

In August 2020, Asian Doll revealed that she was in a near fatal car crash.

The rapstress shared the news on her Instagram story, where she revealed that not only was she injured, but her brothers were bleeding from the head.

The star also told her fans that other passengers were unconscious after the vehicle flipped.

While the star didn't reveal full details of the crash, she did say that the car she was in, went over a cliff.

Luckily she covered quickly.

Asian Doll shares a photo of the car she was in that crashed.

Picture: Instagram/@asiandabrat

In an IG story post, Asian Doll wrote: "I'm Hurt No lie My brothers bleeding from they head when the car flipped over I had to crawl out 1st everybody was bleeding knocked out," she wrote.

"Gang I'm f***ed up no lie love tho."

The star continued "I'm okay but I'll never be the same real life just almost lost my life gang walking down the street head busted bleeding why me tho how I deserve this,"

Asian Doll added "Feel like it's me against the world & I just almost lost."

Is Asian Doll in a relationship with King Von?

King Von's last public relationship was with Asian Doll, who he had been dating since 2018.

The pair have shared many photos of each other on social media. However, rumours spread that they broke up in August 2020, leading many to speculate that Von cheated on her.

Asian Doll shares video with King Von on Instagram.

Picture: Instagram/@asiandabrat

At the start of October, it seemed as though they had rekindled their relationship, when they shared new photos together.

However, King Von took to IG stories to address rumours they were back together, claiming he's "still single".

At the time of his death, it seems as though King Von was not dating anybody.

On Nov 6 2020, King Von died aged 26 after being shot in an Atlanta shooting.

The shooting happened outside of Atlanta's Monaco Hookah Lounge at 3am on thatFriday morning, between two groups.

Following King Von's killing, Asian Doll posted a tweet which worried her fans. She wrote "I wanna die 2 shid it feel like I'm dead already" before posting another tweet.

"I'll never be the same I just hope you visit me in all my dreams I just wanna sleep so I can picture us again I just wanna close my eyes & never open then again… Von I'm gone …"

Since, the star has paid tribute to King Von with photos of them both all over her Instagram.

Asian Doll opened up about grieving King Von on Taraji P. Henson's new Facebook Watch.

The rapstress said: "I was broken", when she first heard of the shooting, which happened six days after their break-up.

"I did not want to see him at all. To go out how he did, I just never would think that."

On Wednesday (Jan 19) Asian Doll told fans that she's at her "final stage" of grief.

Asian Doll opens up about grieving King Von.

Picture: Twitter

Taking to Twitter, the star wrote ""Everyday I take a step to move on. I'm healing I'm getting soooooo better," she wrote.

In another tweet, she wrote "I'm at my final stage of grief. I'm so ready for my new life."

What is Asian Doll's hand tattoo?

On Wednesday (Nov 25) Asian Doll revealed a hand tattoo of King Von's face that she got in remembrance of the rapper.

Did Asian Doll get a King Von chain?

On Thursday (Jan 14) Asian Doll honoured her late partner, King Von, with a chain.

The 26-year-old rapstress shared a video of a blinding chain with a huge King Von portrait pendant.

Asian Doll captioned the post "The BIG ONE not the one in the P.O. Box!!! I'm so happy I'm so greatful thank you from the bottom of my heart I love my jewelers 4life".

The chain was made by Atlanta customised jewellery specialists Status Jewels and Watches.

What was Asian Doll and Jamiyah's beef on Twitter about?

On Tuesday (Feb 22) King Von's ex Jamiyah and Asian Doll had an indirect argument on Twitter.

Jamiyah tweeted about her and Von being "sneaky", which Asian Doll responded to.

Doll indirectly replied "I GOT 50k , a ring & a HOUSE," wrote the rapper. "[And] him."

Jamiyah shut down Asian Dolls claims, writing: "Von didn't give yo ass no 50k ! Stop the cap!!! If he got you a ring you would have been posted it & you got your own house [crying emojis]..."

She continued "Stop stunting for yours fans Girlll he left you!!!!"

"Even tho i never took a plan b u had to get abortions and crackers" Jamiyah tweeted, adding "Didn't even want a baby by you was scared it was gone be ugly [crying laughing emojis]."

In turn, Doll responded "I ain't want a baby cause I ain't no dummy P**sy too good fasho I GOT CUFFED & WIFE within 2days of knowing him [crying emoji] baby would've been beautiful fasho."

She continued "Tweet about that n***a who passed away that cuff that weak ass p**sy leave mines alone he ain't cuff that weak S**t," replied Doll.

Jamiyah fired back, writing "If my p**sy weak why he kept cheating on you [crying laughing emoji] STUPID MAN."