Ashanti Responds To "Stripper" Drama With Stunning Pictures On Instagram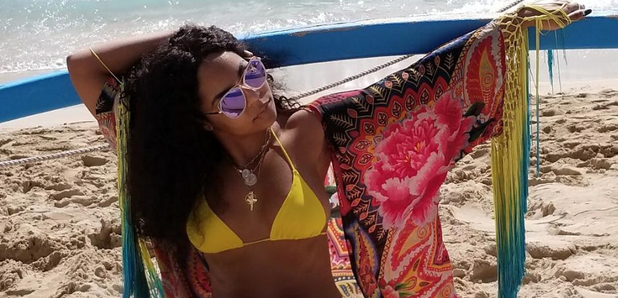 The 'Foolish' singer has put the drama behind her.
Ashanti appears to have responded to her recent "stripper" controversy with a range of stunning pictures on the beach.
The R&B singer made headlines earlier this week after stopping her show because fans were throwing money at her on stage.
The 37-year-old called for her music to be paused while she yelled: "I'm gonna need you to stop throwing that money, "I'm not a f***ing stripper, okay?"
However after the video clip went viral, some fans hit back at her actions.
Ashanti gets mad at Hawaii fans throwing money at her and says she's not a stripper.

okay, but she's not a singer either soooooooo

— OʻAHUHAWAII (@titoioane) 20 November 2017
Ashanti: Grinding, giving lap dances, shaking her ass

Guy: throws money on stage

Ashanti: Don't you dare! Don't ever treat me like a stripper! *resumes stripper activity* https://t.co/qPrQdjR7Xl

— Andre D Thompson (@AndreDThompson) 20 November 2017
So Ashanti plays footage of actual strip clubs and strippers in the background while she gives a literal lapdance to someone... And she has the gall to try to distance herself from strippers with "I'm not a FUCKING stripper" when someone throws money...

Right...

— Audrey&Sadie (@AudreyandSadie) 21 November 2017
He thought she was someone imitating a stripper so he thought it'd be appropriate to make it rain. Honestly feel bad for him. I'm sure he didn't expect the act to be offensive. Not worth stopping the show.

— Jelly Santos (@MrsJellySantos) 20 November 2017
My old boss and dj were the ones who threw the cash and may I say they meant it outta love and respect that's how we do in Hawaii we show love. To say she's not a fucking stripper to my boss who owns Ballarrinas gentlemen's club was disrespectful as fuck.

— Bernie Sunderland (@berniesunderlan) 20 November 2017
i don't understand how these strippers mad/bummed about ashanti saying she ain't a stripper

— donarae (@dkcd_) 20 November 2017
Following the backlash, Ashanti appears to have put the drama behind her with a series of stunning bikini pictures on Instagram.
Meanwhile, Ashanti recently released her new single 'Say Less' alongside Ty Dolla Sign.