WATCH: 72 Year-Old Self-Taught Producer Makes Trap Beats While Doctors Tell Him To Stay Home
6 March 2019, 17:06 | Updated: 8 March 2019, 14:48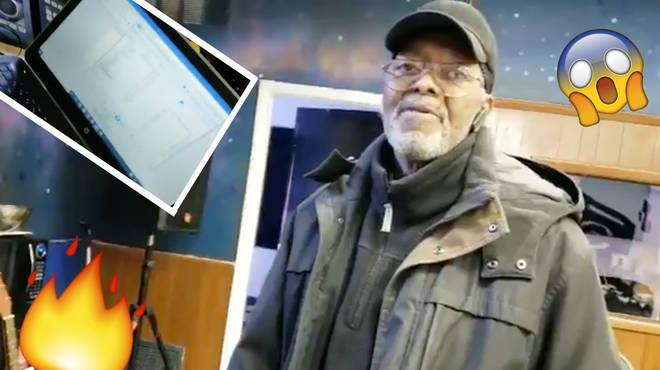 A 72 year-old self-taught producer takes social media by storm with his trap beats...
There are many inspirational stories that motivate people on a daily basis. Some encourage people to focus in early ages so they can win later, some warn people to live their wildest best life when they're young so they can focus when they're older. People encourage others to always have a plan and chase after your dreams, others promote going with the flow and people will eventually find their calling in life.
The common goal within most motivational stories is to get to a place where one is successful, however they deem success to be. One of the most used motivational quotes is "do not to let anyone dictate what you can and can't do", and this 72 year-old man is doing just that.
Last night (March 4), Chicago emcee, TEDx speaker, Add-2, formally known as Andre DiJuan Daniels, discovered a 72 Year-old man named Arthur DuBois, who produces trap beats on his computer.
The artist uploaded a video of a 72 year-old whomakes solid trap beats was told by doctors to stay at home, but he continues to pursue his dreams. Arthur was looking for a studio and happened to across Add 2's Haven Youth Studio, where he provides the youth with a free studio so they pursue their dreams.
Bruh!! Today I met a 72yr old producer who makes TRAP MUSIC!! He said the doctor told him to stay in the house but instead of wasting away he used the time to teach himself how to produce beats. 👏🏾👏🏾👏🏾👏🏾 I'M SO INSPIRED!!! pic.twitter.com/10XIuH8vDe

— Add-2 (@ADD2theMC) March 5, 2019
The elder producer taught himself how to use Pro Tools and Mixcraft to make beats for the past six years.
Arthur's beats is a testament to age being "nothing but a number" when it comes to making your dreams happen and pursuing what you love. Although Arthur is a producer, he doesn't have an official producer tag, but due to his new fame after his video has reached many publications and has been shared all over social media, it will come.
People are eager to know more about Arthur and what he is looking to do with his amazing producing skills. Add-2's video of DuBois has gotten a lot of attention since he uploaded it to his Twitter timeline.
Arthur's new found fans began tagging veteran rappers such as Jay-Z and T.I. Arthur caught another producers attention on social media. Producer !llmind, who has worked with Kanye West, Drake, J. Cole and many other artists, chimed in with his thoughts on the 72-year-old's beats. The producer tweeted "This sh*t made my day 🏆🏆🏆," along with the video.
Fans are steady waiting to hear more about Arthur and are urging him to get management and start a social media account.