Who Killed Tupac? 6 Suspects From The Biggest Conspiracy Theories
12 September 2018, 17:17 | Updated: 12 September 2018, 17:21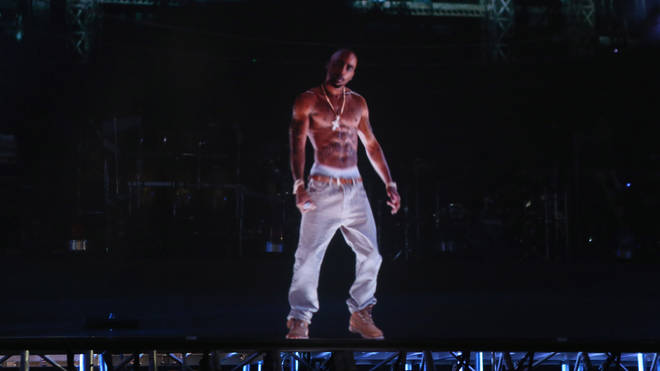 Tupac's murder may remain unsolved, but the countless theories and rumours continue to bubble.
It's been over two decades since Tupac Shakur was killed in a fatal drive-by shooting in Las Vegas.
On 7th September 1996, the American rapper was travelling in a black BMW, being driven by Death Row Records founder Suge Knight, following a heavyweight fight between Bruce Seldon and Mike Tyson.
They were on their way to a party at Club 662, but as they stopped at a red light, Tupac was shot six times by an unknown suspect in a white Cadillac next to them. A bullet punctured his lung, and he died six days later, aged 25.
The murder remains unsolved, and conspiracy theories have surfaced and whirled since the eve of that tragic incident. No-one has been convicted, but here are the biggest theories on who shot Tupac.
Orlando Anderson

Orlando 'Baby Lane' Anderson was the sole suspect arrested for the murder of Tupac Shakur.

He was a member of the LA Crips gang, and was involved in a fist-fight with Tupac while walking through the Las Vegas MGM Grand following Mike Tyson's boxing match, three hours before Pac was shot. The altercation was supposedly an act of revenge on Tupac's part for the robbery of a Death Row Records associate. 

Anderson, who died in 1998 as a result of a gang-related shooting, was never charged for the murder and had always denied his involvement in the infamous shooting.

Keefe D

Notorious Crips gang member Keefe D confessed to being involved in the murder during an interview on Netflix's series called 'Unsolved: The Tupac and Biggie Murders'. The Los Angeles kingpin claimed to be "the only one alive" who can really shed a light on Tupac's shooting.

Keefe confessed to being in the car with the shooter, and says the fatal shot that killed Pac came from the backseat of the car. However, he refused to name the shooter due to "street code".

Interestingly, Keefe is reportedly the uncle of Orlando Anderson, how is the most famous - and only - suspect arrested in the murder of Tupac.

Puff Daddy

A former Los Angeles Police Detective named Greg Kading, who investigated the case, claims Sean "Diddy" Combs was at the centre of the murder.

Kading claims Combs offered $1 million to aforementioned Crips gang member Keffe D to kill Tupac and Suge Knight. Furthermore, he claims Keffe D's nephew, Orlando Anderson, was the shooter. In the same report, Kading claims Knight then hired a Bloods gang member named 'Poochie' to kill Biggie six months later on March 9, 1997.

Combs has consistently denied any involvement in Tupac's death.

Sean 'Diddy' Combs attends TimesTalks Presents: An Evening with Sean 'Diddy' Combs at The New School on September 20, 2017 in New York City. (Photo by Dia Dipasupil/Getty Images).

Picture: Getty

The Notorious B.I.G.

Immediately after the shooting of Tupac was reported, rumours of Biggie's involvement surfaced and spread. The rapper, real name Christopher Wallace, was suspected to have orchestrated the shooting as a result of the pair's ongoing beef.

However, Biggie's family publicly denied the report and later produced documents alleging to show that he was in the recording studio in New York and New Jersey at the time. Wayne Barrow, Biggie's co-manager at the time, said Biggie was recording the song 'Nasty Girl' on the night Shakur was shot.

Wallace repeatedly denied his involvement in the murder of his former friend. He was murdered the following year on March 9th, 1997 in Los Angeles.

Suge Knight

Rumours of Knight's involvement in Tupac's murder continue to bubble. Knight was at the helm of the wheel driving Pac on the night that he died, but that hasn't stopped the rumoured mill from spinning.

According to the conspiracy theory, Tupac was planning to leave Death Row Records in order to launch his own label. He also allegedly owed Death Row Records over $3 million.

The theory suggests that if Tupac was killed, Death Row - and therefore Suge - could make money from any of his unreleased material. Sure has never been charged with the murder.

Suge Knight on 'The Late Late Show' on November 18, 2004 in Los Angeles, California. (Photo by Mark Mainz/Getty Images).

Picture: Getty

No one

Is Tupac still alive? Many people are convinced that the late rapper faked his own death in order escape from the spotlight.

Alleged 'sightings' of Tupac have been reported time and time again, in destinations from Cuba to New Orleans. However, Chris Carroll, the first policeman at the scene of the shooting in 1996, claims he watched Tupac slipped out of consciousness.

"Tupac is dead. I saw him lose consciousness and lose his life 20 years ago," Carroll said, before clamingin that his final words were "F*ck you". Carroll added, "I still find it astonishing that fans and people believe that Tupac is alive.