Capital XTRA's Ones To Watch List 2019
18 January 2019, 13:32 | Updated: 9 January 2020, 13:34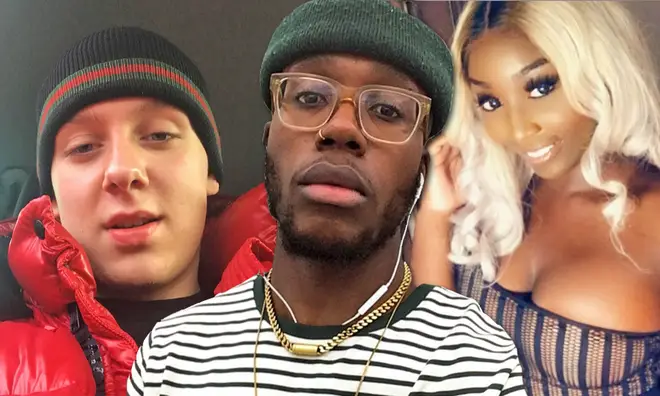 From Slowthai to Miraa May, our ones to watch list for 2019 features the most exciting emerging talents and rising stars set to make a big impact in 2019.
Making a big impact in the ever-changing music industry is not always easy these days, but there are still plenty of incredibly talented artists that manage to do just that every year - and we've put together a list of the stars we think will own 2019.
> The Best R&B Songs Of 2019 So Far
From sultry R&B singers to forward-thinking rap stars, check our list of the finest musical stars you need in your life right now...
Aitch
Aitch - Wait (prod. whYJay) @OfficialAitch
After making a name for himself in the UK scene across 2018 with his ferocious flow and masterful wordplay, Manchester's very own Aitch looks set to have a very strong 2019.
With plenty of new music on the way from the 18-year-old, following a string of strong releases including 'Wait' and 'Trust Me', we're expecting big things from this talented wordsmith.
Alicai Harley
Alicai Harley - Proper Paper (Official Video)
With energy for days and enough charisma to wow huge crowds, Alicai Harley's 2019 is certainly looking very bright. Following the release of her brilliantly-catchy track 'Proper Paper at the end of 2018, the London-based artist put her name on the map and is sure to make waves this year.
Ambush
Ambush - Man Can't [Music Video] | GRM Daily
Whilst Ambush is no newcomer to the UK music scene, his stock certainly rose in 2018 when he dropped the undeniably brilliant track 'Jumpy'. After the remix saw Skepta and Chip jump on the tune, Ambush had managed to cement his name as a firm one to watch for 2019.
Br3nya
Br3nya - Like Me [Music Video] | GRM Daily
With one of the freshest musical styles the UK has to offer right now, Br3nya has already claimed that "them gal wanna be just like me" and it's easy to see why as her music is set to take over in 2019.
'Good Food' amd 'Like Me' have created the foundations for a top year ahead and there's nothing that can stop this rising UK star.
Che Lingo
Creative genius is probably the best way to describe Che Lingo. The South London star has been releasing standout tracks for a while now and his unique flow and style is something that has turned heads around the world.
Having received support from across the globe, it appears that 2019 is the year Che Lingo's breathtaking lyrics and stunning music makes its way into the ears of an even bigger audience.
Hamzaa
Hamzaa - Breathing (Official Video)
After a stunning EP release and some brilliant live performances, Hamzaa gained the attention of music fans everywhere with her personal brand of soul music.
Using her East London surroundings as inspiration for her radiant tunes, Hamzaa's ability to paint a vivid stroy with her honest lyrics is something that will help make 2019 a year to remember.
Just Banco
Just Banco - Sales Running/Missing
The second Machester rapper on our Ones To Watch list for 2019, Just Banco dropped a number of solid tunes over 2018, with his track 'Ashleigh' gaining plenty of attention on social media following a shout out from Liverpool football star Daniel Sturridge.
Fusing elements of R&B and Grime with a more traditional rap sound, Just Banco is in a lane of his own and 2019 is about to be a big year for him.
Kida Kudz
Kida Kudz x Geko - Again [Music Video] | GRM Daily
Having worked with the likes of Geko, Kojo Funds and Burna Boy already, Kida Kudz is in pole position to steal the airwaves and make 2019 his own with more strong releases on the way soon.
As a favourite of Capital XTRA's very own Afro B, we can't wait to see what Kida Kudz has to offer this year and if his latest fresstyles are anything to go by, we're in for a treat!
Miraa May
Having made music for years now, Miraa May's 2018 stepped up when she released her epic EP 'Care Package' and gave us a teaser of what we might be able to expect from her moving forward into 2019.
She's already worked with Chip on his 2017 project 'League Of My Own II' and is certainly an artist on the rise we're planning on keeping an eye on this year.
Octavian
Octavian - Move Faster (Official Video)
We know all about Octavian's quality as he's already performed at Capital XTRA's Homegrown Live event back in 2018, so adding him to our ones to watch list for 2019 was a no-brainer.
An all-rounder like no other in the UK right now, one listen to Octavian's music will make you see why he's so well-talked about amongst music writers and fans everywhere.
Pink Sweat$
Pink Sweat$ - Drama (Official Music Video)
R&B in 2019 is Pink Sweat$, plain and simple. The Philly vocal sensation brought his mellow vibes to the forefront of the genre in 2018 with songs like 'Honesty' and nothing looks set to change in 2019.
Prepare to add Pink Sweat$ entire discography to all your playlists ASAP.
Roddy Ricch
Marshmello x Roddy Ricch - Project Dreams (Official Music Video)
After releaing a couple of mixtapes and an EP over the last 18 months, Roddy Ricch's wave has been bubbling for a little while now and 2019 is the year it truly sweeps everyone away.
A collab with EDM superstar Marshmello called 'Project Dreams' saw intrest in the Compton rapper from a wider range of media outlets explode and he appears set to use that to his best advantage in 2019.
Slowthai
slowthai, Mura Masa - Doorman
Breaking the mould in what many people's expectations of a UK rapper are, Slowthai is so much more than just a lyrical beast.
Artisticly minded and not afraid to try something different and make his voice heard, the Northampton star will dominate throughout 2019 and we're certainly not complaining.
Unknown T
Unknown T - Homerton B [Music Video] | GRM Daily
It was impossible to go anywhere in 2018 and not hear Unknown T's hard-hitting anthem 'Homerton B' blaring out of a speaker.
As the song soundtracked much of the year, it also gave Unknown T the foundation he need to raise the bar again in 2019 and with new music on the way across the next 12 months, you're gonna wanna hear what the East Londoner has to say.
> Download Our Free App For All The Latest Music News!