10 Of The Best NBA References In Hip-Hop
18 January 2019, 17:15

Promoted by NBA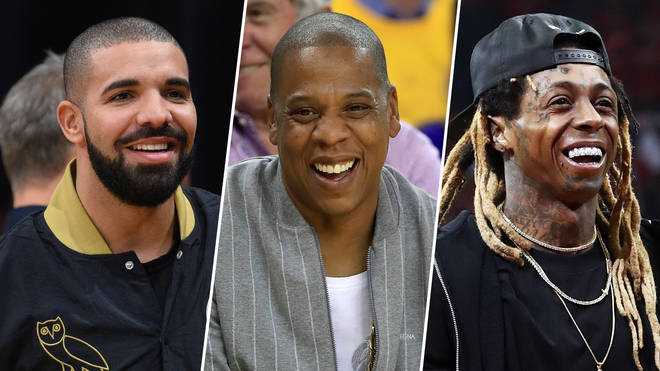 From Drake and Jay-Z to Rihanna and Pharrell, rappers and singers have long made themselves known as fans of the NBA. Here, we present the best basketball-based lyrics in Hip-Hop.
Hip-Hop and basketball have long been intertwined, and the influence one has on the other is well documented throughout music.
No NBA season would be complete without a star-studded roster of rappers and singers sitting courtside supporting their favourite teams, while friendships between musicians and players are also hard to miss.
Your favourite sports stars' playlists are drenched in Hip-Hop hits, and, likewise, artists from Drake and Lil Wayne to Rihanna have all referenced basketball within their music.
Here are some of the best NBA references in Hip-Hop - cop these for your next Insta caption.
Drake - 'Nonstop'

"Catch me 'cause I'm goin' outta there, I'm gone
How I go from 6 to 23 like I'm LeBron?"

Lil Wayne - 'Fireman'

"They ball when they can and I'm ballin' by nature
Addicted to the game like Jordan and Peyton"

N.E.R.D. & Rihanna - 'Lemon'

"You can catch me, Rih, in the new La Ferrar'
And the truck behind me got arms
Yeah, longer than LeBron
Just waitin' for my thumb like The Fonz"

Kendrick Lamar - 'The Heart Part 4'

Kendrick Lamar. Picture: Getty

"Tables turned, lesson learned, my best look
You jumped sides on me, now you 'bout to meet Westbrook
Go celebrate with your team and let victory vouch you"

J. Cole - 'I Got It'

J. Cole. Picture: Getty

"But I'm hoop dreamin', hangin up pictures of my idols
Jordan was like Jesus, SLAM was like the Bible
I used to read it twice and cut the pictures out
Had the Jordan free throw dunk tongue stickin' out"

Future & Drake - 'Jumpman'

"I just found my tempo like I'm DJ Mustard, woo
I hit the Ginobili with my left hand up like, woo"

Jay-Z - 'The Return'

Jay-Z. Picture: Getty

"Losers lose, so when we does what we do, we win
And win again, like deja vu
Then we win again, like M.J. do
Three-peat, then we retreat to waters that's blue"

Drake - 'Thank Me Now'

Drake. Picture: Getty

"And that's around the time
That your idols become your rivals
You make friends with Mike
But got to A.I. him for your survival"

Kanye West - 'Can't Tell Me Nothing'

"No, I already graduated
And you can live through anything if Magic made it"

Jay-Z - 'Empire State Of Mind'

"If Jeezy's paying LeBron, I'm paying Dwyane Wade"