Trippie Redd Breaks Silence After Tekashi 6ix9ine Exposes Him As A "Gang Member" In Trial
19 September 2019, 12:33 | Updated: 5 October 2020, 11:30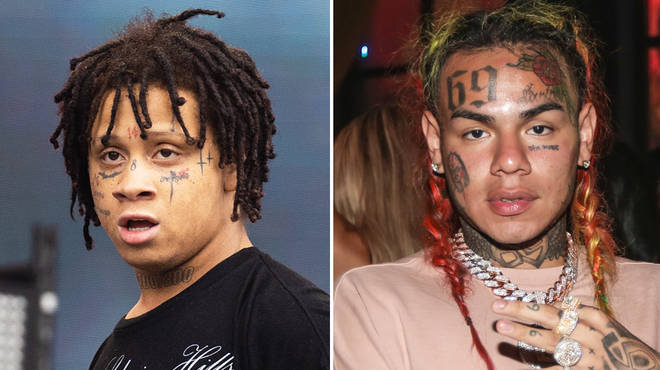 Rapper Trippie Redd has broken his silence after Tekashi 6ix9ine exposed him as a "gang member" during his court testimony. Tekashi recently took the witness stand in court.
Tekashi 6ix9ine recently brought up Trippie Redd during his trial on Tuesday (Sept 17). The "Gummo" rapper expose Trippie Redd as a "gang member" during his questioning.
According to Innercitypress, Tekashi 6ix9ine exposed Trippie Redd as apart of a gang who was in opposition to the game he was involved with.
During his trial, Tekashi 6ix9ine revealed that "GUMMO" is "a diss song, toward like somebody I don't get along with".
The person he was referring to is rapper Trippie Redd. According to InnerCityPress, Tekashi said "Trippie Redd was part of Five Nine Brims, Hernandez testifies" writes Lee from Innercitypress.
However, Trippie Redd has broken his silence since 6ix9ine exposed him in court. The "Mac 10" rapper took to Instagram and posted a photo of him smiling, despite his former collaborator turning against him in court.
Redd captioned the photo "Lmao I was so determined to get to where I am now love you all and my life," wrote the "Love Scars" rapper on Instagram.
During the trial, Tekashi 6ix9ine revealed that he became an official member of Nine Trey Bloods Gangs after he released the 'KOODA' video in December 2017.
Trippie was not the only person Tekashi exposed, the rapper identified members of the Nine Trey Bloods gang; explained the gangs hierarchy, and what role people played.
The "KOODA" rapper could face at least 47 years in prison. 6ix9ine is expected to be sentenced in January 2020.