Soulja Boy Takes A Shot At Tekashi 6ix9ine After He's Released From Jail
18 March 2019, 13:27 | Updated: 18 March 2019, 14:48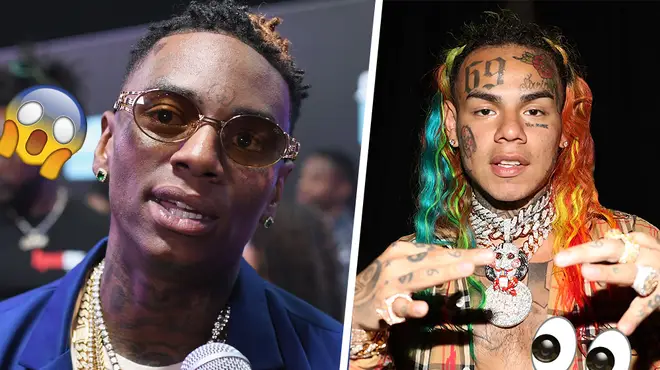 Soulja Boy takes a shot at Tekashi 6ix9ine during expletive rant on Instagram Live...
Soulja Boy is out of jail after being taken into custody on Friday morning (March 15). Soulja Boy he was reportedly released on his own recognizance after a court appearance.
As soon as Soulja Boy was released from custody, the "Crank That" 28 year-old rapper jumped on Instagram Live, and went on a rant. Soulja addresses the probationary charges and pleads his innocence.
He also shows that the case will not had him back in the slightest as he he vowed to attend the his performance at Staples Center later that night. Soulja Boy performed "Crank That" at his halftime performance for the Chicago Bulls - Los Angeles Clippers contest. 
Soulja Boy took to Instagram Live to announce his comeback:
"Jail tags and all that … no jury, no nothing," he begins. "What the fuck you talkin' bout? I'm out! The fuck you talkin' bout? I'm out! I just got out of jail right now. The fuck you talkin bout? And I'm performing at the mothafuckin Clippers game so be there at the mothafuckin' Clippers game … This shit ain't gonna stop, bro.
The 28 year-old rapper continued: "Yeah, I'm out… I just got out of jail right now and I'm performing at the Clippers game," he ranted and raved while sitting next to his designated driver. "Tell you, this shit ain't going to stop… I had the biggest comeback of 2018 and they try to lock me up, they try to hate on me…I'm the hottest rapper in the game."
Soulja Boy took a shot at Tekashi 6ix9ine during his rant to show an example of what he isn't going to be like. Soulja said:
"I'm not gonna go out like 6ix9ine, you got me fucked up, bruh," he added before he cut off the Instagram Live.
Big Draco's arrest stemmed from a violation linked to a probationary clause he signed in 2014. In 2014, the rapper was arrested after being caught with a concealed weapon in a public place.
In 2016, police found a loaded firearm in his house, in violation of the existing 2014 clause. Police initially went to Soulja's house after he allegedly threatened people online.
On Friday morning (March 15), Soulja Boy walked into handcuffs when he went to see his probation officer in the San Fernando Valley.
According to TMZ, police were waiting for him when he arrived.
For the past eight years, Young Drako has been on probation fas part of the judge's conditions. Soulja isn't allowed to possess any firearms or ammunition. The judge extended his probation but reiterated he can't own any weapons.
A month ago, a woman claimed Soulja held her in his garage for six hours. Soulja Boy responded and said that the story is "100 percent fabricated." But as a result of the woman's claim, police had to search his home where they discovered ammunition, another probation violation.
.
.
.