Tekashi 6ix9ine prosecutors ask judge to give rapper lighter sentence
6 December 2019, 16:16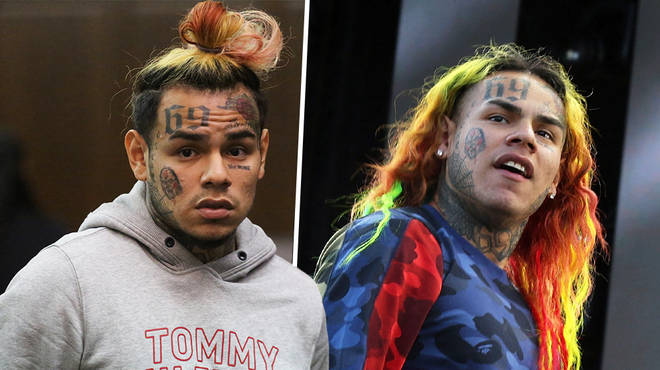 Prosecutors are requesting for a judge to give Tekashi 6ix9ine a lighter sentence in his racketeering case.
Tekashi 6ix9ine's prosecutors have officially recommended that the rapper receives a reduced sentence.
The New York rapper, real name Daniel Hernandez, is due to be sentenced (Dec 18) for his involvement in a racketeering and firearms case with other Nine Trey Bloods gang.
On Wednesday (Dec. 4), XXL obtained court documents displaying federal prosecutors asking a judge to consider the fact that 6ix9ne cooperated with them into account when they sentence him.
Prosecutors have said 6ix9ine provided "substantial assistance" in their investigations into Nine Trey Members. 
Due to Tekashi 6ix9ine's testimony, prosecutors say 6ix9ine should be sentenced in light of "18 U.S.C. § 3553(e) and the factors set forth in Section 5K1.1(a)(1)–(5) of the Guidelines".
The "18 U.S.C. § 3553(e) and Section 5K1.1(a)(1)–(5) guidelines" mean that a judge can sentence someone to less than the mandatory minimum based on how they cooperate with the government.
In the document prosecutors say that 6ix9ine,began giving them information about the criminal activity of Nine Trey members from Nov. 20, 2018.
They claimed Tekashi gave them information all the way up until he entered a guilty plea in court on Jan. 23, 2019.
The prosecutors revealed that 6ix9ine gave them information on the day he was kidnapped, a robbery charge he was already hit with, his involvement with Nine Trey and gang activity of the Nine Trey Bloods.
In their request, prosecutors argued that Tekashi's will need serious levels of security after he cooperated with the feds, claiming that life "will never be the same" for the rapper. They also made a point of Tekashi's family possibly not being safe.
Along with giving information about his 6ix9ine testified against his former Nine Trey Gangsta Bloods associates Aljermiah "Nuke" Mack and Anthony "Harv" Ellison, the latter of whom was convicted for the July 22, 2018 kidnapping of Tekashi back in October.
Mack was convicted of a drug trafficking charge that same day.During his September testimony against Ellison and Mack, 6ix9ine, who was originally arrested on a myriad of firearms and racketeering charges in November of 2018, told the court that he thought his cooperation would get him released from prison in 2020.
He's reportedly been offered a $10 million contract and plans to drop two new albums—one in English, the other in Spanish.