Tekashi 6ix9ine 'Exposes' Former Gang Members In Shock Court Confession
18 September 2019, 11:12 | Updated: 18 September 2019, 11:31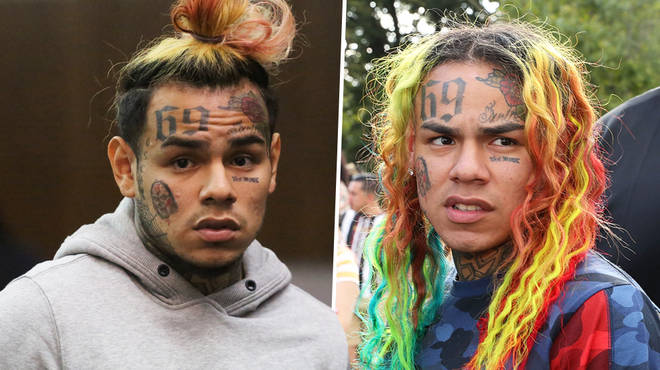 Rapper Tekashi 6ix9ine appeared in Manhattan federal court to detail his Nine Trey Bloods gang ties. The rapper testified against the alleged kidnapper and former gang members.
Tekashi 6ix9ine appeared in Manhattan's Thurgood Marshall United States Courthouse yesterday (Sept. 17). The rapper testified against former members from Nine Trey Bloods Gang and who allegedly kidnapped the rapper.
The "Kooda" rapper took to the witness stand where he testified against two men, Anthony "Harvey" Ellison and Aljermiah "Nuke" Mack, who are facing federal racketeering and firearms charges.
In July 2018, Ellison was connected to the alleged kidnapping and beating of 6ix9ine, therefore he is facing additional charges.
According to TMZ, 6ix9ine began cooperating the very day he got arrested back in Nov 2018, on his own racketeering and firearms counts.
Tekashi 6ix9ine testified in court that he reached out to the men he believed to be members of the Nine Trey Bloods for them to appear in his music video 'GUMMO'.
Who occupied the positions?
"Mel Murda was the godfather. Right under was Shotti... Seiko Billy was a five star."'
Judge Engelmayer: I'm looking for a stopping point. (He said it will end at 4 pm, in 5 minutes.) Story soon - after the lawyers' arguments if any

— Inner City Press (@innercitypress) September 17, 2019
According to InnerCityPress, the rapper said "I wanted the aesthetic to be full of Nine Trey," Tekashi 6ix9ine explained. The rapper described that as the moment where alleged Nine Trey member Sego Billy became his first contact.
He also said he met his former manager Kifano "Shotti" Jordan, for the first time on the day of the video shoot for 'GUMMO'. Shotti has been sentenced to 15 years in prison after pleading guilty to two federal weapons counts.
The Bushwick rapper told the court he was made an officially made a Nine Trey Bloods gang member after the release of 'KOODA' in December 2017.
When questioned about what his responsibilities he has as a member of the gang, he responded, "Keep making hits and be the financial support for the gang."
6ix9ine: to be initiated you had to do work. Like, cutting someone's face.
Mr Hernandez, but you were not initiated, right.
Right. I just had to keep making hits and giving financial support to the gang. Equipping with guns. Like, so they could buy guns

— Inner City Press (@innercitypress) September 17, 2019
Tekashi 6ix9ine revealed that the money he made in his capacity as a rapper was not only used for gang members' personal use but also for the acquisition of firearms.
When asked what he got in return, 6ix9ine replied, "My career." He explained that the gang provided him with street credibility as well as protection.
"Mr Hernandez if you could identify the people in the photograph."
"I don't know the guy in the LA hat."
"And what is Mel Murda wearing?"
"Cincinnati Reds... He's the grandfather, I mean godfather, of the Nine Trey Bloods."
a/k/a Mel Matrix...

— Inner City Press (@innercitypress) September 17, 2019
Much of the questioning was delving deep into the dynamic of the Nine Trey Bloods Gang. Tekashi was asked to identify people in a photo, the rapper responded and revealed the names and positions of the gang members he recognised.
Earlier this year, Tekashi 6ix9ine pled guilty to nine counts in the federal case, including charges of racketeering conspiracy, firearms offenses, drug trafficking, and more.
The "FEFE" rapper could face at least 47 years in prison. 6ix9ine is expected to be sentenced in January 2020.